Another pic of Diddy and Kim out in St. Tropez this week:


I got my issues with Kim, but she could give Naomi a run for her craziness money body-wise. Work it out ma!

I haven't seen J-Lo in a hot minute: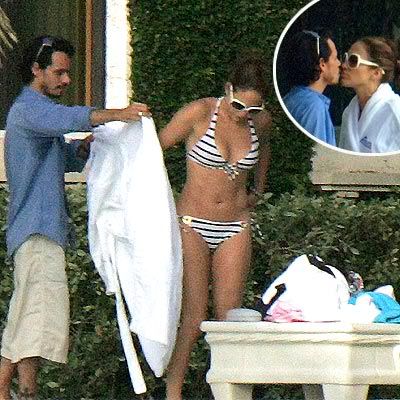 She looks fab but her hubby does not. They were spotted out swimming recently.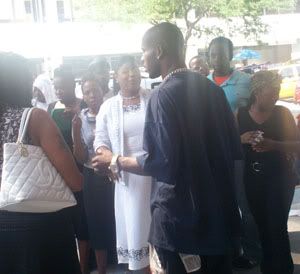 Maaaaaaan WTF? Where else could you find DMX outside leading a prayer circle and Al phucking Reynolds strolling along strutting his suspect stuff...in the same place? Outside BET studios of course. Get the story here told by a fan who was there yesterday. I promise y'all I cutup for 15 minutes straight. Funny ish indeed.

I swear everytime I go over to Zilla's I am fallin' out at sumthin'.


He had this video of the Chicken Noodle Soup Dance--a new hip hop craze supposedly--posted. I saw it being talked about a few weeks ago somewhere and thought it would just go away. So I didn't even peep the vid. But now I have, and I damn near got a migraine from trying to hold back laughter at this sad, sad, show of events. Foolywang material indeed. My people: Stop the madness. (Peep the older dude in the background when the lil boy is dancing--his crunkness was my main reason for laughter.)

Wait...
here's
another vid. This sh*t is everywhere. And I would like for whoever made this ish up to e-mail me cuz we need to talk.


The Randomness:



Supposedly Chris Webber's new lil boo is none other than Tracee Ellis Ross. They were cuddled up and dancing and being very "couply" at his party during his Bada-Bling weekend recently.
Nona Gaye is no longer a part of the cast of Law and Order: CI. She quit before an episode of hers even aired. She was supposed to be taking Cortney B. Vance's place as the D.A., but left due to "creative differences". Hmmmm.
MollyGood has the trailer and some songs from Outkast's Idlewild. I'm actually looking forward to this movie.
BV has

Beyonce's diet secret

. Even though I truly believe she's doing something else now that she's eating food again.