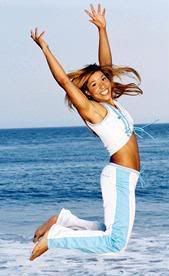 Well well well. It's been speculated for years that Queen Latifah has a bisexual/lesbian (no one has any solid confirmation on either) lover, but now one of her alleged lovers is comin' out with all the biznazz. Her trainer, Jeanette Jenkins, is supposedly airing to media sources (and confirming some speculations) as of today that her client, Queen, is very much her lover as well. And has been for years. I feel like I need a sound effect. Anyways, Queen has been pictured with Missy (who really believed that?) and another woman and people speculated that both people were her lovers. But sources are telling me regardless of who peole are saying Queen is with, this fitness expert is the real deal. Why is she coming out about it all now? Or maybe it's because rumors are popping up of Queen cheating on her with another female, AND rumors of Jeanette stepping out on Queen. Jeanette is also with Queen right now on the set of her new movie that I told ya'll about a while back. I don't know but this story can only get better....


And yes, it's the same chick that people were speculating about

when I posted a pic of them almost a year ago

:



Oh realllllly? More on this to come....