Naomi Gets Nekkid+Garcelle's Balance Game Is On Point+JD Dishes About Janet
Oct 09 | by Natasha
Na Na Campbell
is all over the pages of
i-D
magazine:
 Some pics NSFW... And only she could pull off artsy nakedness like this:
Interesting.  How
Garcelle
maintains her balance is beyond me.  She hit up the Hollywood premiere of
Gone Baby Gone
last night:
Photog: Granitz
Twins my ass.  That's 3 kids minimum.
Kanye
says
he's about to design his own jewelry line
. But no worries...they won't be ALL diamonds. So this
Football Wives
show is still in limbo over at ABC.  But you can check out some of the episode and cast pics: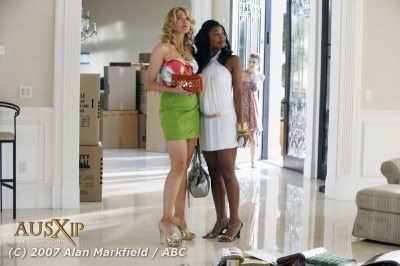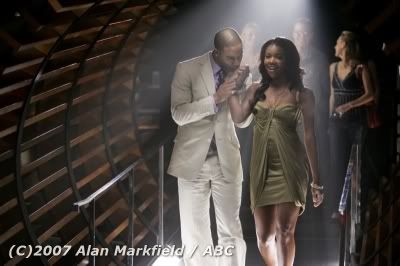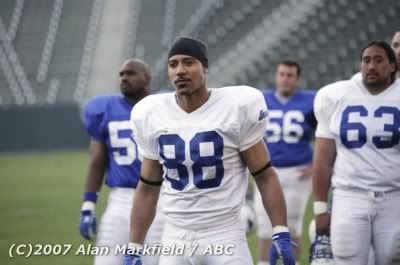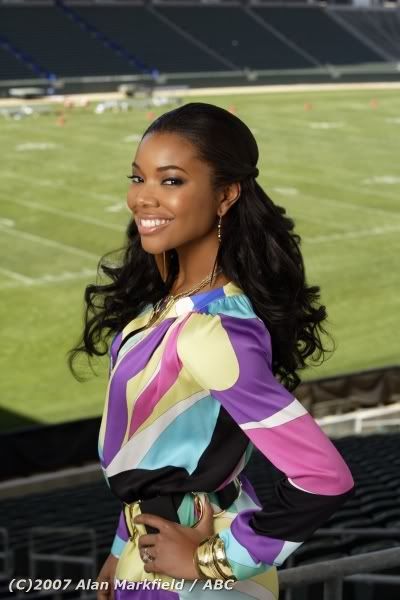 It looks like the extra dramatized version of
The Game
...and I love it. 
Gabby Union
stars as a model turned wifey of a star wide receiver played by
Brian White
.  And
Holly Robinson Peete
plays the mother in law.  The YBF chicks are looking uberly fab.  I'll be watching...
An excerpt from
Jermaine Dupri's
new memoirs
Young, Rich, and Dangerous: The Making of a Music Mogul
has been leaked.  And y'all know it was conveniently about
Ms. Jackson
:
CHAPTER 12: WE BELONG TOGETHER gives readers a glimpse into the author's personal life, and his relationship with longtime love Janet Jackson. Things have always been so easy between us. There was none of the usual pressure I felt with my girlfriends in the past. Like me, my girl was deep in the business from day one. Like me, her family was always involved. Like me, she was constantly traveling and working. She understands how your work can take you away. She does get jealous, but with her I'm not always on the defensive, trying to explain how it is. It wasn't long after we got together on that dream vacation when I met her whole family. It was Thanksgiving weekend when they invited me down to L.A. for a gathering. They don't do Thanksgiving, but they get together for a big family dinner. I was real nervous. When it's a girl with six brothers of course you're gonna be intimidated. I was thinking the worst and worried they would ask me all the hard questions of life. I knew they'd be real protective of the baby in the family. But they didn't grill me at all. They were just real gracious and nice, joking around with each other and saying, "Pass the biscuits please." I couldn't get over how normal the whole family was. The Jacksons were just a regular black family with black people [stuff] going on! They play board games together. Jan's mom is even more competitive than I am. She can't stand to lose and she won't give it up to anyone. The kids all argue and tease each other like siblings do and throw down when it's time to eat. They tease me too. La Toya's always making fun of me and mimicking me on the phone. Jan finds it hilarious. The Jacksons let me in with open arms. When they were all going through it over Michael's trial, I spoke up for them. I wanted to defend the family's honor. They're just nice, loving people who deserved better than getting raked over the coals in the media. I also did it because it was important for Janet. The trial was rough on her. She and Michael were always so close. Getting together with Jan was the first time in my life I felt like I was with a woman who's also a friend and a partner. I feel like I can breathe around her. Now I have someone who is more than my equal and who I can bounce things off of. Jan will give me an intelligent answer. She's educated and she knows stuff. Life with Jan is just real normal. When we hang out, we hang out at home. She's a homebody. We don't want to be out on the road all the time.
It hits stores October 12th.