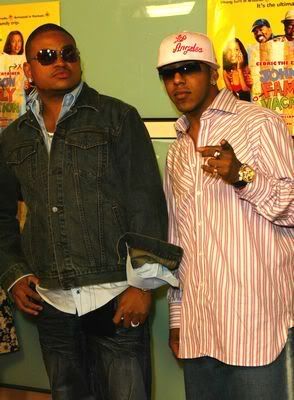 So
Chris Stokes
issued yet another "statement" through his PR company in regards to
Raz B.'s
apology video:
"I'm happy that Demario "Raz B" Thorton and Ricardo Thorton realized their mistakes and admitted to lying. I have always supported my family and have always been a stand up person. I knew that the truth would eventually come to light."
Yes, we heard somebody feeding Raz the lines of what to say in his suspect ass apology video. And yes, we peeped him not even being able to look into the camera. And yes, Chris, I saw you including your own uploaded version of the apology video in this e-mail statement from your PR company. At least
try
to act like you didn't have anything to do with this apology. I'm just sayin'... And
David Banner
hosted his Heal the Hood festivities this week. He went around to neighborhoods in Jackson, MS to make it rain with money and toys this Holiday season. And of course he made sure to let y'all know why every other "gangsta rapper" is whack for not doing the same thing. Interesting.