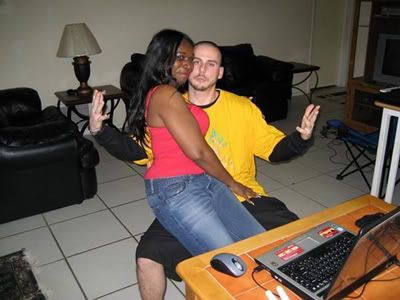 According to Newbistar Blog,
Sister Patterson
and
Joshua Gallander (b.k.a. White Boy
) from
ILNY
Season 1 are still on and poppin'. They were spotted leaving in a stretch Hummer together after both left the club this week in Vegas. And then they were spotted checking in to the Palms hotel. Eww. Apparently Sister Patterson is smitten with this dude and he some kind of way can tap that with a straight face.
T.I.
released a Holiday Youtube vid for all his fans. Even though he can't be with us in person he gives us the Holiday lowdown from his home.
Katt Williams and Ricardo "Ricky Romance" Thorton
Check this 2 part audio of
Ricardo "Ricky Romance" Thorton
(
Raz B's
brother) speaking to WPGC 95.5 here in DC (Shout out to my girl Rane):
Part 1
Part 2
Dude is really sticking to his story. He says he never did anything sexually with
Chris Stokes
but Chris did try to touch all over him. And
Marques Houston
is more involved than we all think--esp. since when Chris started messin with him, Marques liked it and they have had a secret relationship since they were kids. What's really going on here?