2007 is pretty much a wrap...and here's our chance to do better.  New year, new start, new ish.  So certain things MUST not carry on to the '08 and this list MUST be passed on to all of your loved ones.  Or those who you know damn well need it in their lives...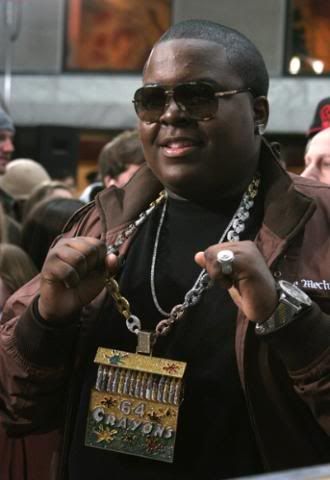 10.  The big ass chains with no purpose must stop.  We don't know what they mean and even if we did, they're still whack.  If you're going to rock a chain, do a throwback to the 80's and rock the chain sans the big ass purposeless medallion.  We all know what label you're signed to and if we don't...we probably don't care.  You could feed 3 villages in Africa and plant a 5 star boutique hotel in two of the villages with that ish.  Just be smarter with your money. 9.  Don't send naked pics of yourself to your boyfriend, husband, BFF, family member, NOBODY.  That ish will ALWAYS come out at some point and you will be crying to the Feds talking about "Why me?".  Take note from the dozens of celebs who make this mistake on the daily.  Just cut all that out.   8.  If you work in a customer service oriented field, such as restaurants or retail,  stop cursing out customers to their face but under your breath when you're actually talking loud as hell.   We can hear you.  Especially when the customer only asked you to get something that is in your job description to get.   7.  Whichever hair salons are still putting in multicolored weaves into women's heads needs to be shut the hell down.   I don't know if I'm more mad that people really think mixing blue and green weave or having holiday inspired hair weave colors are the ish or that I even have to say this ish in 2007. 6.  Stop mispronouncing Jena (Jee-nah), Louisiana. 5. Eliminate the words "hate" and "hater" from your vocabulary. 4. Rappers who think having fights at their own concerts makes them hard. It doesn't. And, as always, it's the smallest dudes too-T.I., Weezy, now Trey Songz. R&B dudes trying to get in on the foolishness. Yes, the crowd can get foolish, but you look extra foolish jumping off stage trying to box a dude 3 times your size because he threw ice on the stage. Let's let the bodyguards you put on your payroll handle that nonsense in the '08.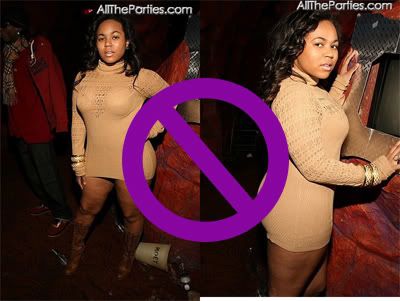 3. Tunics are just that...tunics. Which means you cannot just MAKE a shirt a tunic, but it has to be made like that already. Sadly enough, Shi Shi was just the latest victim of being caught rocking a simple sweater like it was a tunic or a dress. I see this ish all the time and it really needs to stop. Just tacky. Especially when there are far too many actual tunics out there for you to rock. And while we're at it...how about we cut out the wearing draws as "hot pants" too. 2. BET.
1.  STOP the 99% naked, thong wearing, ghetto, chi chi's spilling over, tatted up, bird chested, skuzzy, gully, booty "look back" pics and poses on Myspace.  Just STOP IT.  It's unnecessary on many levels.  And gone ahead and throw out those tacky ass "I Gets Money Bitches" taglines of the sorts too.  You will NOT find a man who is a "business minded hustler who treats you right" by posing like an extra desperate Khia.  You just won't.  And fellas, you will not find a woman who is "wifey material" when you set your Myspace search to "Pics only" and only scan the chicks who are assed out on their profile pics.  Let's aim higher in the '08.  If you had to get throwed with a whole bottle of Hypno--at home or in the club--just to get up the nerve to take that pic--that means you shouldn't even think about posting it.  I
will
be starting a BOYCOTT MYSPACE petition and will find a way to get the FBI involved if this foolishness continues in the '08.