Because I know we're all just sitting here tapping our fingers, twiddling our thumbs, impatiently and anxiously awaiting the
Eddie/Tracey
Wedding
Publicity Shoot
photos:
There's one to wet your whistle. 
People
magazine will exclusively release the rest of he set in their January 11th issue. 
People
and
OK!
kill me with all these build ups of CELEBRITY EXCLUSIVE WEDDING PHOTOS!! that no one EVER gives two sh*ts about.  Now had this been Eddie and
Johnny Gill
...I would have been camped outside the Time Inc. offices wishing somebody
would 
cut me in line to get these photos.  But whatev.  Congrats to the happy couple.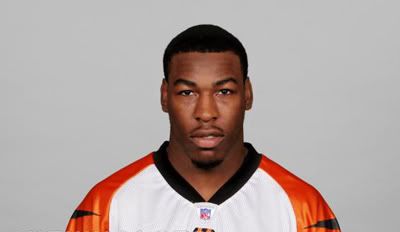 So I must do my gossiply duties and relay this bit of tea.  An e-mail just hit my inbox describing an NFLer who has allegedly come out of the closet and likes to take interesting pics: 
He's Cincinatti Bengal
Kenny Irons
and these are the source's exact words:
I was at a party with Kenny Irons (auburn college) but plays for the NFL Cincinatti Bengals but he got hurt before the season started. Well I was at a party and he was hitting on me and saying how he can have sex (but he didn't use those terms) with another guy and still be the best football player. I overheard someone saying that his brother David Irons who has been doing good this year with the Falcons is pissed about his brother's preference and has not been answering his calls because he is a rookie and doesn't want his teammates giving him a hard time.
Honestly, I don't really give a damn.  I just want to know his workout plan because his legs are the business. And for all you fans of
The Wire
, here's some sneak peeks at Sunday's premiere: The fifth and final season premieres this Sunday, January 6th at 9 p.m. EST on HBO.