I typically wouldn't give a damn what
Shitney Spears
has to say, but since she's talking ish about
B
, I know some folks would love to hear it.  Sources are reporting about her comments about the Grammy night's performers, and all the ish talking she had for Beyonce and
Amy Winehouse
:
About Beyonce's widely acclaimed duet with Tina Turner, Britney reportedly quipped, "Too bad she can't dance as good as Tina --who's old enough to be her grandmother!"
Even though Amy Winehouse looked sober and clean, the former princess of pop reportedly said of Winehouse's much-anticipated performance via satellite from London, "Look at her! Look how stoned she is! She is so obviously stoned!"
Source
She also clowned B on how much she "tossed her hair" during the duet. Seriously? That grammar school education and mentality is really shining through right now. I'm just going to blame all this cattiness on one of her multiple personalities who forgot about that foolywang material she calls her 2007 VMA performance, her crackish ways, and her weave.  B*tch please Britney. In other news, in case you missed it. Check out
Trey Songz'
newest video for "Last Time": I see
Drew Sidora's
got this video chick role down to a tee. And damn if lil
Kiyan Anthony
isn't a spitting image of his daddy
Carmelo
: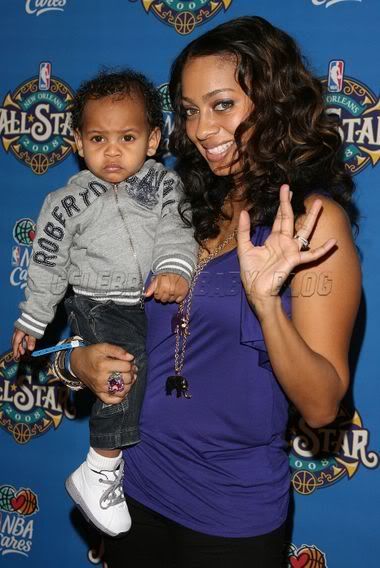 Pic source:
CBB
He and his mom
LaLa
hit up an All Star event this weekend. Cute.