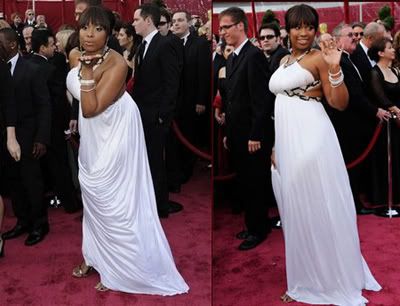 Photogs: Granitz/Mazur/Reuters
Still not really feeling it, but indeed much better than last year's Academy Awards
Andre Leon Talley
foolishness.  She was dripping in Neil Lane diamonds too-Chandelier Earrings, Diamond and Platinum Cuff and Stacked Diamond Bangles, Diamond and Platinum Ball Ring, and Diamond and Platinum Flower Hair Pins.  The Roberto Cavalli grecian style halter dress with black and white diamonds is beautiful but it aint what's poppin' for her.  Is her circulation still going despite the upper part of that dress?  Whatev. 
Jennifer Hudson's
 Oscar de la Renta look last year vs. this year's look:

Click For Larger Pic
YOU DECIDE...