Keisha Whitaker
was looking way less hungry tonight (seriously) on the Oscars red carpet: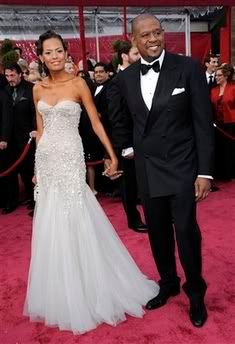 Photogs: AP/Vespa 
That eat-nan-a-piece-of-foood diet is not what's hot in the streets.  Fabulous dress and she looked even more fabulous in it.  Heavy bronzer and all.  And her hubby
Forest
looked quite dapper himself in a custom-made tuxedo by Domenico Vacca.  And he rocked over $100k in diamonds: Kwiat Platinum, Diamond, and Onyx Cufflinks and a Chris Aire Platinum, Diamond, and Red Gold Traveler Watch.  Nice.
OSCAR UPDATE
:
Ruby Dee
did not win for Best Supporting Actress tonight.  Damn.