Photog: Nunez/Wireimage
There have been rumblings for a while, but now someone in
Star's
camp is putting out statements.  Sources are reporting
Star Jones
is about to give
GAl Reynolds
 the Prada boot out of her life.  
Reportedly
, a source close to Star has stated:
"Star is planning to divorce Al...I think Star felt Al had spent their marriage riding her success while she did all the heavy lifting. She resented it. Deep down, Star is a very old-fashioned woman who believes a man should support her emotionally, physically and financially. She now believes Al failed her."  
Are we really surprised?  Dude did lose/quit his high paid banker job damn near right after they got married.  And all his party time and chill time with his
boy
friends for damn sure didn't allow him to find a new job.  We all saw it coming.  And I wouldn't be surprised if he dropped a "
Terry McMillan
 story" on her ass either.  Good luck with that Star.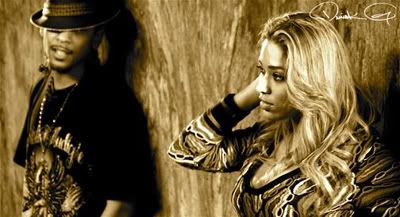 J. Holiday
has been spotted extra hugged up recently all over the MIA with a particular girl.  And the mystery chick actually has been revealed to be his co-star video chick from his "I Won't Tell" video with Fat Joe.  Her name is
Deanna Pena
, also known as
Miss Dade County
.  And of course, she's also a up and coming hip hop recording artist.  YBF snitches in Miami caught them out and about in several different places together all over each other.  New years Eve parties, out in South Beach on weekends, and just chillin' arounf the MIA.  So video chicks are the new wifey material?  Whatev.