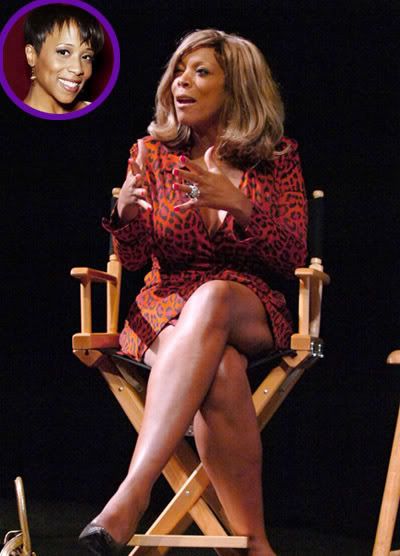 Photog: Cochran/Wireimage
The saga continues. I received an e-mail today from a former intern of the
Wendy Williams Experience
telling an inside perspective on
Kevin
and
Wendy'
s relationship with Talent Booker
Nicole Spence
(pictured in inset). Apparently that sisterly relationship between Wendy and Nicole was a serious cover up by Wendy of what was really going on. Very interesting to say the least:
...there was always unspoken tension [between Wendy and Nicole] & Nicole even told me once that Wendy was jealous of her when she was an intern, so she treated her like sh*t & ignored her. Don't ask me how Nicole ended up being Talent Booker...kind off ODD being that Wendy hated her. BUT being that Kevin is Wendy's manager..makes sense. I love Wendy but you can tell she has low self esteem & her husband is very controlling & mean. I would go out of my way to avoid him at work. With that said although Nicole is a hoe...(trust me) I believe her. That girl is an opportunist who worked too hard for that job to give it up over a lie. Just had to put the truth out there.
Damn. Meanwhile, another inside source tells me that Nicole is scared sh*tless to leave her house ever since
this story
broke. She's been receiving threats from Wendy since she filed the suit. So why did she come out with this now? Word has it Wendy is leaving WBLS and Nicole was leaving soon anyway...so folks really have nothing to lose.
And now the documents have leaked
that show all of Nicole's claims and what she demands from the Wendy and WBLS. The craziness continues...