Photog: Kambouris/Wireimage
50
says he's jacked his vote from
Hillary
and given it to
Barack
. A while back he was caught on video saying he was voting for Hillary because America wasn't ready for a black President and they might just take it to Barack if he actually won. But now he says Senator Obama has won him over:
"I heard Obama speak," he said. "He hit me with that he-just-got-done-watching-'Malcolm X,' and I swear to God, I'm like, 'Yo, Obama!' I'm Obama to the end now, baby!"
Whatev 50. It just took you a few months to realize how ignorant your comment sounded.
Kimora
and
Djimon
can't keep their hands off each other. Sources caught KiKi feeling her man up while they worked out a Equinoz Gym this weekend:
Kimora Lee Simmons and her sweetheart Djimon Hounsou, working out together at Equinox gym in Santa Monica. Side by side on treadmills, they warmed up with a slow walk. Hounsou wore his headphones around his neck so that he and a svelte looking Simmons could talk while they walked. And the designer was very talkative and upbeat, chatting nonstop with her beau. After the walk, Simmons hopped off to do some lunges – and Hounsou followed. And as he hopped off his treadmill, Simmons playfully grabbed his butt and giggled.
Gots to celebrate that divorce with a celebratory booty grab.
Rihanna
was spotted shopping out a the Grove in LA yesterday:
Dudes about to break their necks staring at this chick. Hilarity.
Last pic: rihannadaily.com
Cute shoes Rih Rih.
UPDATE
: Stop playing Chris and Rih Rih.
They both said on the Kids' Choice Awards orange carpet
that they are simply best friends in a brother/sister way. Nothing else. You don't hug, kiss, and cuddle with your sibling the way you two have been going at it. Just stop.
Eve
and
Rashida Jones
hit up celeb hairstylist
Ken Paves
' benefit dinner at Beso last week:
For the love of all that is wigalicious...please get a new one Eve. I beg you. And if that blonde headed Ken P. is doing your wigs, slap him them chunk the deuce...for good. Because slapping a short curly lion mane on your head is not the ish. And you're too fab for that.
Sigh. Loves the dress though.
And Rashida Jones came through too looking like she just got up out of bed. Down in Florida, the BET kids were still doing Spring Bling:
Not feeling anything going on right here
Keyshia
.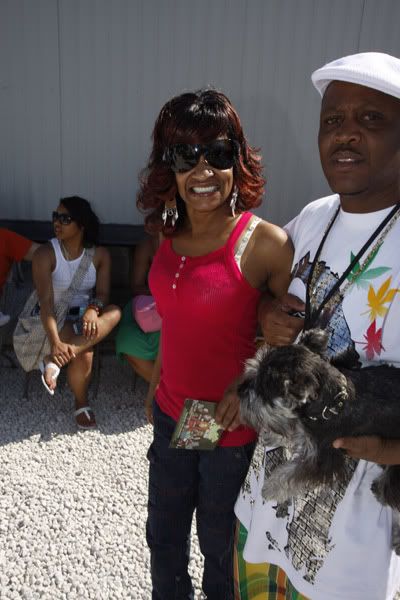 Or here
Frankie
.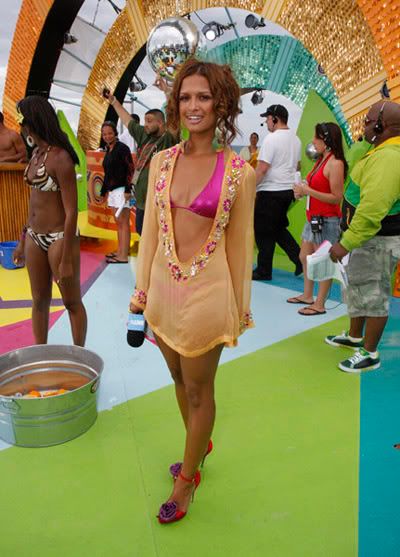 Rocsi
was looking a bit hungry.
OK Flo Rida.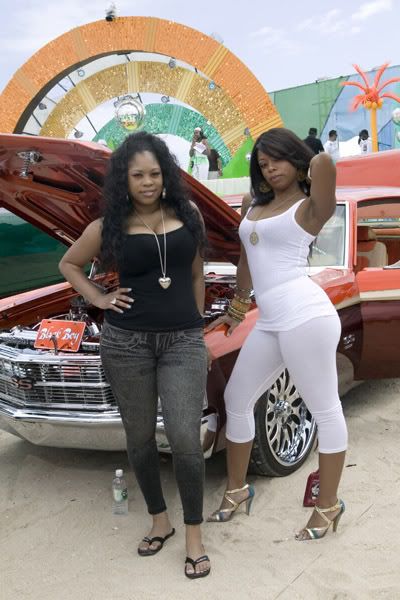 Daaaaamn
Bootz
.  What's really hood after Flavor of Love?  Bet you wish you would have passed on those implants huh?
Weezy
performed:
Damn Weezy.
And
Baby
.
And apparently he whipped out the guitar. Is that a Weezy mini me in tow? And
Jim Jones
still looked greasy:
As all hell.
And where did
Pastor Troy
come from? The Randomness:
Mos Def is set to play Chuck Berry in Cadillac Records.
The Levert family has put out a statement regarding Sean's death.
Essence.com is talking about the most influential women from '07.