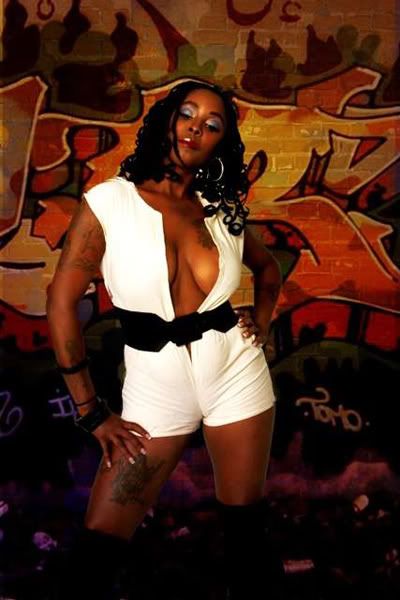 Myspace.com
So
Camel Toe Khia's rant about Trina the other day
just wasn't enough for her. This chick went and bought
Trina
's new cd and decided to post an album review about it--since she didn't want people calling her a "Trina Hater" anymore. She commented on each track, but my brain can't handle it all.  So here's a snippet:
FIRST OFF!!!! LETS START WIT DA ALBUM COVER!!!!! LIKE I SAID B4..... DAT BULLET AINT DA ONLY THANG DATS BEEN IN HER YUCK MOUTH.. AND FROM DA LOOKS OF THANGS HER HEAD IS BIGGER DAN HER BODY NOW!!!! SHE LOOK JUST LIKE DAT BOBBLE HEAD ON HER PAGE!!!!!!! NOW DATS ONE THANG DA BITCH GOT RIGHT!!!!!! DAT BLACK DRESS IS A HOT MESS....... SHE LOOKED LIKE A BURNT THIN-IN DINNER!!! ALL I SEE IS RIBS AND BONES.....SINCE DAT PEDIALITE AND ENSURE AINT WORKING. I HIGHLY RECOMMEND.....STEROIDS AND DONKEY MILK!!!! CUZ HO YOU LOOK LIKE U ON UR LAST TRIMESTER.. AND BITCH PLEASE DONT BLAME DAT RAPID WEIGHT LOSS ON DA LEMON JUICE DIET!!! CUZ WE ALL KNOW AINT NO BITCH OUT DA HOOD WILLINGLY LOOSE ALL DAT WEIGHT!!!!! YESSSSSSSS!!!!! HO U AINT PARIS NOR NICOLE AND IN DA HOOD, THE BOYS ARE SCARED OF U POINTING AND WHISPERING..... SHE LOOK LIKE SHE GOT DAT THUNDA LIGHTNING!!!!!!!! NOWWWWWWW!!!!!WE GOING INTO THE INSIDE OF THE ALBUM COVER...... STARTING WIT DA FEET!!!! WHY DIDNT YO GLAM SQUAD..... TERRENCE DAVIDSON, MISA HILTON AND NADINEEEEEEEEEE TELL U TO GET A PEDICURE GURLLLLLLLLLLLL! YO FEET IS CRUSTY AND YO WIG IS DUSTY AND YO HEAD LOOK BIGGA DAN YO BODY!!!! WHAT IS REALLY GOIN ONNNN???????? FROM DA LOOKS OF THANGS, DIS WAS A BAD TIME FO YOU TO PROMOTE AN ALBUM!!! U SAY IF MINE EVA COME OUT!!! U SHOULDVE WANTED ANYBODY TO SEE U ... LOOKIN DA WAY U DO!!!!!AND DEY NEED TO BE FIRED IMMMEDIATEDLY!!!!! IT LOOK LIKE U BEEN WALKING DA HO SCROLL ALL UR LIFE!!!! BITCH, WASH UR ASS CUZ UR FEET SHOULD BE DA FIRST THANG DAT HIT DA WATER!!!!!!MOVING RIGHT ALONG!!!!!!!
Oh, but there's more... About some of the tracks:
TRACK 4: SINGLE AGAIN HATED IT!!!! WE GIVE DAT SHYT TWO THUMBS DOWN!!!! U SINGLE AGAIN BUT NOT BY CHOICE...... HOE WEEZYYY WOKE UP!!! HE DONT LUV U HOE!!!! U SINGLE AGAIN CUZ HE LEFT UR DOG ASS!!! HOE WHAT U GONE NAME YA BABY? BABYYYY? CUZ IN 98 U WAS FUCKING BABY!!! U AINT MARRIED YET????? U CANT TURN A HOE INTO A HOUSEWIFE. CUZ U LOOKED A HOT MESS IN DAT WHITE WEDDING DRESS!!! ALL WHITE IS NOT FO U!!! STICK TO DA STRIPPA SHOES!!! OR WRITE A BOOK LIKE UR TWIN SISTA....SUPAHEAD!!! CUZ ITS OBVIOUS U CANT SELL NO RECORDS. MY RECOMMENDATION..........PORN!!! OH, MY BAD, UR BODY IS DETERIORATING AND NOBODY WANNA FUCK U NO MOE!!! TRY A BLOW UP BOBBLE HEAD TRINA DOLL!!! CUZ UR PERFUME AINT SELLING EITHER!!! TRACK 6: I GOTTA THANG FO YA DIS SONG SHOULD HAVE BEEN ENTITLED...... KEYSHIA COLE!!! CUZ DA ONLY THANG WE WANNA HEAR IS DA HOOK!!! BITCH!!! STOP WHINNING LIL WAYNE DONT WANT U!!! HE GOTTA THANG FO ME. U HURD WHAT HE SAID........ "DA QUEEN WIT HER HAIR LIKE MINE." TRACK 10: STOP TRAFFIC STOP TRAFFIC? HOE... FROM DA LOOKS OF UR FEET U STILL WALKIN DA STREETS. ITS BEEN TEN YEARS AND U AINT GOT OFF DA HOE SCROLL YET? YOU STOPPING TRAFFIC? HOE U BEEN STOPPING TRAFFIC SINCE OJ WAS DA JUICE. BITCH U A THROWBACK HOE. OLD AS DA ORANGE AND WHITE BUCCANEERS JERSEY!!!!! BITCH U NEED TO SADDOWN AND RETIRE!!!!! CUZ DAT PUSSY GOT MILES ON IT!!! WHO WROTE DAT SHYT!!! YOU AINT FROM NEW YORK , U FROM DA SOUTH!!! WHOEVER WROTE U DAT SHOULDVE GAVE DAT TO FOXY BROWN OR LIL KIM!!!!! OH!!!!!! YALL AINT KNOW DEY HAVE GHOSTWIRTER'S TOOOOOO? OOOOOPS... MY BAD.....DID PITBULL WRITE DAT??? OH....MUCH LUV PITBULL CUZ SEE I WRITE, PRODUCE AND COMPOSE ALL MY SHIT TOO!!!!!! GET MONEY BABY!!!!!
I mean, did Trina steal one of your wigs or something Khia? You wanted to switch up the rastafarian style but couldn't because your lacefront wig turned up missing? Is that why we're so bitter right now? Just wondering. But real talk, my IQ lowered several points while reading this ish so I refuse to continue. Homegirl really needs to ease up off the Caps Lock key as well.
Check out Khia's myspace blog
for the rest of the foolishness if you'd like.