I know people are about to lose their flipping minds behind this ish: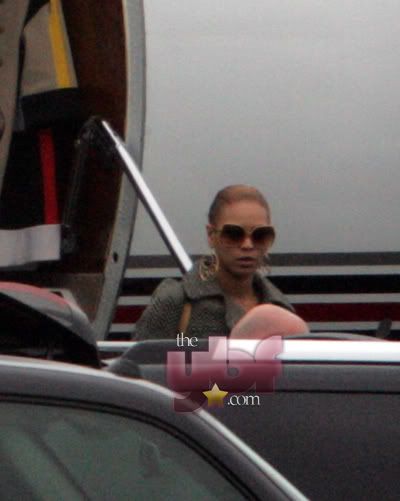 The alleged Mr. and Mrs. were spotted exiting their private jet this Saturday in Greensboro, North Carolina the day after their alleged Friday wedding. Greensboro was
Jay
's next Heart of the City Tour stop, and was where
MJB reportedly congratulated him and Beyonce on stage
. More pics when you read the rest...
Can we focus for a minute on that ring Jay is rocking on that ring finger?:
I take it that's the wedding ring because dude has never really been spotted rocking a ring, esp. not that damn big, on that finger. Hmmm. And since we all know Greensboro was likely not their Honeymoon destination, look forward to a summer filled with Bigga vacay pics...more than usual I'm predicting. Click all pics for bigger images.
UPDATE
: 
Word has it, the couple are negotiating an exclusive deal for the wedding photos -- which likely will end up in OK!, People or Us Weekly. The good news: The expected big-bucks payoff will be donated to both Darfur relief and an inner-city New York kids sports program long supported by Jay-Z.
[
Source
]