I'm not sure what
Lil Romeo
is doing these days but I thought he was already in college at USC. Either way, he and his friends are getting Facebook happy with the pics and videos. His latest vid is him doing his best
LL
impression while lip syncing to
J. Holiday
's "Bed":
Um.....so dude is 18 and all now so I don't feel that bad for having several impure thoughts all up and through my head right now while watching this vid. That was until I remembered
this ish
. *
shudders
* But still. I'm sayin' though... And as for who he's been spotted kicking it with around L.A.: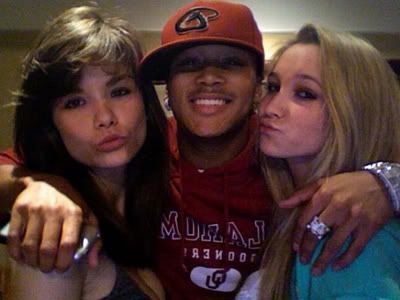 Singer
Jesse McCartney
's sister and friends. Go figure.
Facebook.com via ONTD
Footage of
50 Cent
getting jacked for his chain when you read the rest... Damn:
50 Cent performed in Angola, Africa last night and left with a few less pounds of diamonds. At around the 1:40 mark in the above video, we see somebody leap on stage from out the crowd and jack 50's chain from off of his neck. I hear that they never caught the culprit and 50 never got his ish back. I guess this is what happens when your one candy shop diamond chain could feed a whole damn village. I'm just sayin'...