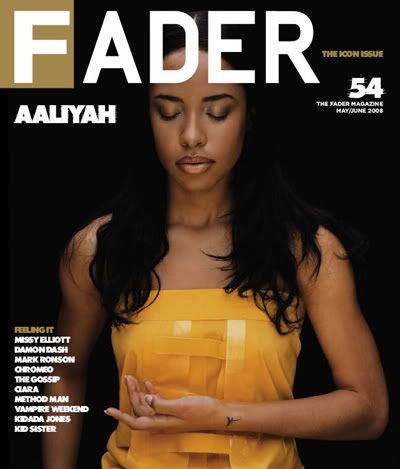 {Click thumbnail for both covers}
Fader
magazine is doing a tribute to Babygirl for their June '08 issue. The mag is presenting its Annual Icon Issue: A Tribute To The Influential
Aaliyah
, with contributions from producers, family, friends & peers. Here's a few excerpts of what folks told the mag:
Missy Elliott
"We was gonna save the world. We was gonna change music every chance we got. We was gonna always be family. Forever."
Mark Ronson
"If it wasn't for Aaliyah being the face and voice of [Missy Elliott and Timbaland's] sound they might have never got to where they did. They were presenting their sort of brilliant but challenging breakthrough music through this beautiful young girl who could sing it perfectly."
Kidada Jones
"I think about her all the time…Anytime she's brought up or her music comes on the radio, it's sweet, but it definitely sounds like she found a niche before it was here. If you listen to her music it's so relevant today, but we had it so long ago."
Damon Dash
"She was already a fashion icon, she was getting into movies, she had already planted that seed. If she was alive today she would be so relevant. I see little bits of her everywhere I look, in a lot of artists."
Jomo Hankerson
"I think a lot of that mysteriousness they talk about was just what she was. She seemed like she came here already grown up, from the beginning."