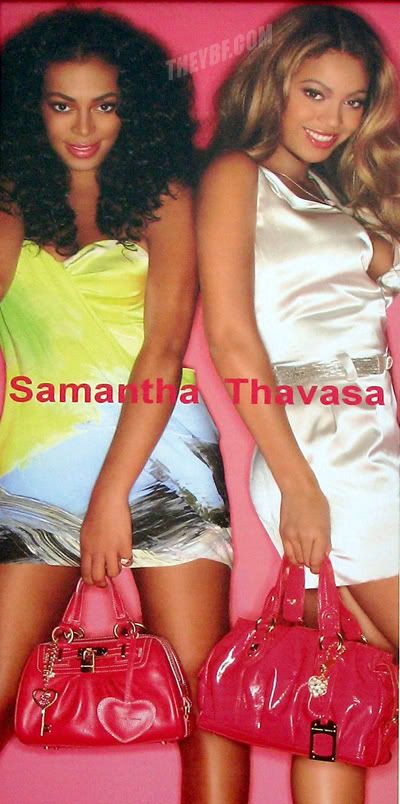 Beyonce
and
Solange
are featured in the new Samantha Thavasa ads in Tokyo. They're pubbing the new summer line of bags.
Gossip bits when you read the rest...
NFL Baller
Larry Johnson
and his girlfriend
Julissa
from BET have gotten engaged. They celebrated their new enagagement at Pure nightclub this weekend:
According to a YBF snitch partying it up at Pure that night:
So I was in Vegas over the weekend and hit up PURE nightclub on Saturday night. Well on the flat screen tv's in this one particular room, there were pics of Larry and Julissa scrolling from when they were young up until now with the words Congratulations Larry & Julissa underneath. Well turns out they had gotten engaged and came out to PURE to celebrate. The DJ kept shouting them out all night. Larry was acting a fool, dancing on tables while Julissa was in the cut. At the end of the night, Larry got on the mic and Julissa was standing behind him all hugged up. They looked really cute together and extremely happy!
I figured this was coming. Congrats to the couple.
Nick Cannon
and
Mariah Carey
rented out Six Flags Magic Mountain yesterday for a possible wedding reception. Yes, the entire place. And it was closed off to the public after 6p. According to
Hollyscoop
:
The couple arrived with heavy security and were surrounded by them the whole time. Nick seemed obsessed with Mariah as he kept combing her hair with his fingers as she chatted with others. The two were holding hands the entire night and were very affectionate. It looked like the two hadn't seen each other for years.
Oh goodness.
Nunez/Busacca/Wireimage