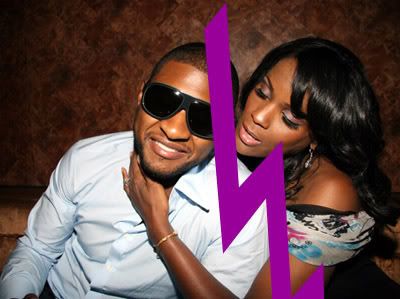 Well what do we have here? Extremely reliable sources close to Mr. Raymond himself have confirmed to TheYBF.com that
Usher
has indeed set on filing for separation from his wife of only 9 months
Tameka Raymond
. I'm told he may have actually filed three weeks ago. Supposedly they haven't even been living in the same house together. And Usher is torn on whether he will be making an official announcement or not as he wants to save face and just let it "leak". How convenient that his album releases in exactly 6 days, his second video hit the net today, and his album leaked yesterday. We've been here before with the pre-album release publicity stunts (remember the
Chilli
breakup right before
Confessions
?). So I'm really not surprised. But it
is
interesting that Mrs. Raymond
was just on set with Usher
for his MTV snippet tapings on Sunday. At the very beginning of their relationship almost a year ago, sources were screaming left and right that this whole relationship was a sham and Tameka was strictly a pawn. And their relationship was all for publicity for his soon to be released album. And clearly this may not have been as far fetched as people thought. At this time, it's unclear as to what reason--if any--Ursh is going to give for their separation. But I have two guesses...both of which fit the classic Usher-pre-album-release-publicity stunts he has pulled before with previous album releases. Either
the beef between the Mrs. and Mama Ursh
is too much for Usher to handle, or
he found out baby Usher V is not his
. Regardless, Urshmeka is chillin' on Splitsville Lane right now and time will only tell how this is all about to play out.
UPDATE
: As expected,
The Raymonds
are denying their separation to other gossip sources (but not to
this
gossip source).  Extra hard.  And we all know this isn't the first time a celeb (namely Usher) has denied something in a "statement" that ended up actually being true. TheYBF.com is sticking by its previous story. Let the publicity circus continue...