Ice Cube and his wife Kimberly were spotted leaving the Lakers game last night at the Staples Center.  Clearly both of them are hardcore fans.  And I've been eyeing that Fendi bag Ms. Kim's rocking for months.  Loves it.
And Na Na Campbell celebrated her 38th birthday last night (her b-day is actually today) aboard Diddy's yacht in Cannes: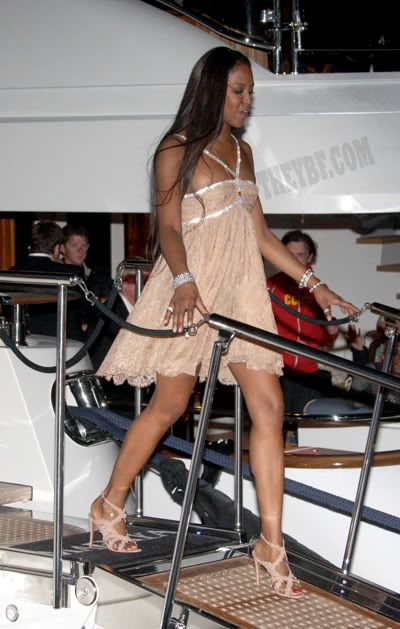 Fun times.
Splash News/WENN
News on
Trina's
new clothing line when you read the rest...
Do you want to dress like
Trina
?  She's releasing her own clothing line called "Pink Diamond Couture".  According to the press release:  
Her high quality jeans are emblazoned with her signature logo on the back pockets. Imagine jeans with details such as leather, python and crystals. To add a personal touch to her line the collection comes with a Tattoo that is uniquely Trina's very own. No detail is overlooked in the fabric, as well as design. The fit and styling are a sexy new look in the wonderful world of fashion. "I have always imagined a clothing line that was high quality that I could offer to my fans. I spent a lot of time creating handpicked details that are fresh, unique and one of a kind. The best part they look really expensive but are reasonable priced."
Hmmm.  I'll pass.