Flavor Flav
was spotted out on the streets after grabbing some Burger King last night: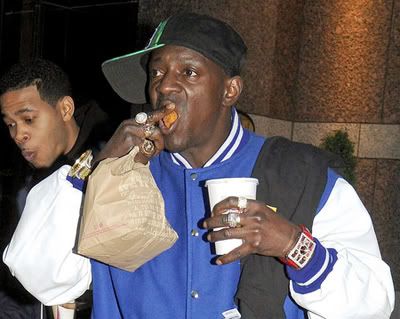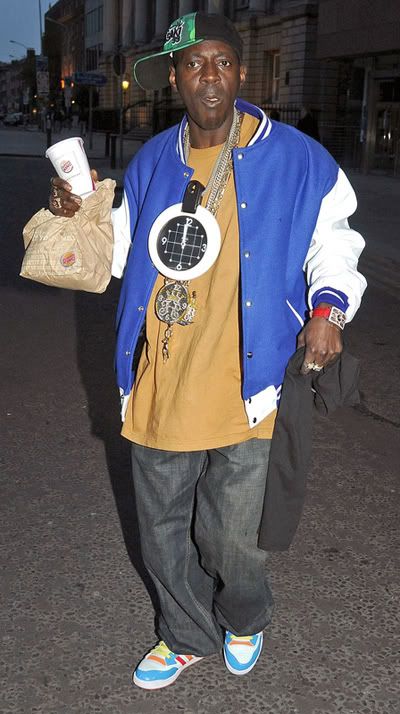 Just...ew. All kinds of wrong going on here. More ish when you read the rest...
Rapper
Xzibit
posted on
his myspace blog
that his newborn son Xavier died yesterday morning--about a week after being born pre-mature:
ITS 4:32AM AND I HAVE SOME BAD NEWS........
AS you all know, I shared with you the announcement of my newborn son Xavier Kingston Joiner on may 15th and also informed you that he was born prematurely. well this week was extremely difficult for him because his lungs were not strong enough to handle regular oxygen on his own. Xavier passed away this morning at 3:30am and I must tell you this, It is unnatural for a parent to bury a child. I am telling you this because of the same reason I tell you when im having great times, life is too short to be fake. Hold on to your kids if you have them, protect them and show them you love them everyday you wake up and see them, don't take a second you get to hug them teach them and care for them for granted. You can have all the material wealth in the universe but it is NOTHING compared to having your family. I am thankful for all of my blessings and i/m not one to question God's perfect plan, so I leave you with great love and thanks for the love that was sent earlier on my previous blog to my son. Of course I need to take some time and handle my loss, STAY FOCUSED PEOPLE. Its not promised to any of us.
R.I.P Xavier May 15th 2008- May 26th 2008
Our condolences go out to Xzibit and his fam.
This is classic
Ray-J.
Apparently
dude got put out of his Hyatt hotel room
here in DC this weekend. All because he was caught with a stash of weed and "ecstasy like" drugs. And was partying it up extra loudly. And to make matters worse, he had to move to the Holiday Inn down the street. I wonder if they kept the party goin' after the move to the Holiday Inn. I'm sure the chicks he had in that room were pretty much down for anything since they're just hoping their faces get on one of Ray-J's infamous tapes...