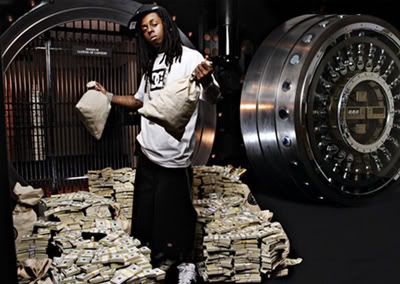 In a press release sent to my inbox today, we've found out that your favorite rapper is defaulting on his Bentley payments. Silicon Valley Investor
Lé Marck dé André
and his Silicon Valley Law Firm have filed suit against
Lil' Wayne
(gov't name:
Dwayne M.Carter, Jr.
), Cash Money Records, and Young Money Entertainment in a California Superior Court for non-payment on a 1999 Bentley Arnage. The self-professed, "Greatest Rapper Alive," is currently being sued for $123,800 plus a $200 per day fee for failure to make restitution to dé André's company. According to dé André, Lil' Wayne paid him $78,507 in August of 2006, ten months after the initial payment was due. Since the payment was received late, Wayne breached the initial customization agreement, prompting dé André to terminate the contract immediately and take legal action against his client. In his first-ever publicly released statement, dé André said,
My direct observation and experience with Dwayne M. Carter's financial and personal irresponsibility over the years has taught and demonstrated to me that he has become the "new symbol of financial illiteracy and slavery in/of the 21st century" and this is unequivocally not fiction nor is it a misunderstanding. For a little over 5 years, I have been involved with the consistent and perpetual business behavioral illustrations of Dwayne M. Carter's high-level of financial illiteracy, lack of liquidity, leveraged acquisition liability accumulation and below zero net-worth; as well as lack of business communication, character, and integrity- all learned behaviors- and the primary reasons for non-payment. My prognostication is unless and until Dwayne M. Carter transforms his personal, business, and financial attitude and adopt new behaviors, these unfortunate behavioral components will equate to future lawsuits, defaults, repossessions, foreclosures, and the making of a great candidate for bankruptcy.
Hmmm. I will say that YBF has tried to contact said Silicon Valley Law Firm to validate this story, but a suspicious answering machine picked up and there was no answer. But y'all know I'm staying on it...