Na Na Campbell Wants A Baby+Stacy Dash Gets Hurt On Set+Nelly & Ciara Spotted On Set
Jun 10 | by Natasha
Naomi Campbell
's telling folks she wants to have a baby. And that's all we need is a little tot running around throwing baby Blackberrys at folks. Remember that suspicious surgery she traveled to Brazil for a while back Well, apparently, the surgery had something to do with her
now
being able to have kids. She told media sources:
Now I can have a child I would like one. I'm even willing to have one without a father. I know that I am ready.

I know that with a baby I would change, I'd calm down. With a child you cannot accept compromises. You have to give your full self.
The only thing that'll make this chick calm don is a pimp lap from Shaquanda from down the street. More ish when you read the rest...
YBF chick
Stacy Dash
has been filming the new tv show
Celebrity Circus
. And she reportedly has broken 3 ribs after an accident on set. I just don't think it's that serious to be breaking bodyparts for a D-List Celeb game show. I'm just sayin'... And here's some flicks of
Nelly, JD
, and
Ciara
on the set of his new video for "Step On My Jays":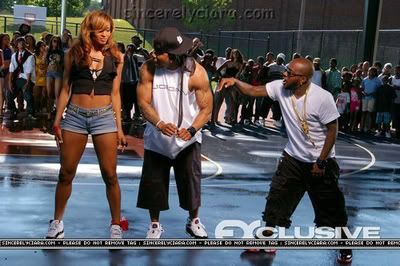 Why is Ciara taller than both these dudes...in her Jay's?
Oh those arms of Mr. Nelly...
Looks like a cute vid.
Sincerelyciara.com