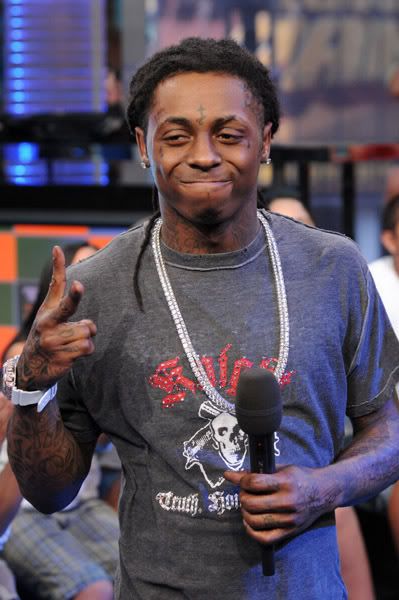 I received several e-mails from disgruntled
Lil Wayne
fans this weekend.  Apparently, Mr. Carter was supposed to do a Canadian tour stopping at several cities kicking off Sunday after his stint at Summerfest in Florida.  However, he failed to show up at his first stop at Montreal's Tribe Hyperclub, as well as didn't show up at the other place he was scheduled to host at that night in Montreal.  And now, I'm told that he has cancelled all the rest of the Canadian dates.  No reasons were given as to why he failed to show up and cancelled upcoming dates.  And his fans are fuming because they paid good money
in this recession
(upwards of $1500 for a table and $150 for a regular ticket) and some won't be getting a refund for most of it.  And some folks are calling foul on the club owners since apparently they knew he wasn't going to show up Sunday night.  But they didn't tell the guests who paid their money for the tix.  So people just waited all night in vain and were extra pissy. Here's one reader's account of what went down:
Yesterday June the 29th, I went to a club named Tribe Hyperclub, Lil' Wayne was to perform and host the event. The tickets the first day were 20$ and it went up every day some people I know even paid 150$. Me and my girls grabbed a table upstairs for 1500$. The club was packed everybody was all dressed up, but Lil' Wayne never showed up. Today when I went on your page I saw that Lil' Wayne performed in South Florida over the weekend. I think this was a scam I don't even know if Lil' Wayne was really coming, apparently one of the reasons he did not make it was because he was and I quote "too f*cked up". Throughout the whole night we heard bouncers saying that Weezy was stuck at the border and another one said he was on the plane. I want to sue the organizers on the ground of false advertising since they never delivered what they had told us.
Let me find out Wayne's getting a cut of that ticket money even when he's not showing up.  This ish is quite suspect. 
Meanwhile, he just announced his deal with Halo Champagne--his own brand/company.  He teamed up with Voirin-Jumeh and Milestone Brands to launch the brand.  Here's a snippet of the press release:
Superstar rapper, Lil' Wayne is putting his genius into another industry. The Billboard chart topper, "Lollipop" video, introduced to the world his new champagne, Halo. Halo, which will be in stores the fall of 2008, features four different champagnes, Halo Brut, Halo Brut Vintage, Halo Rose, and Halo Pinnacle.   "Champagne is for celebrating," said Wayne about his new top shelf project.  "I'm ready to put my foot in a new door," added the charismatic New Orleans native. "There are so many different business opportunities; I want to take advantage of it all."
Interesting.  Too bad there was no Halo for his Canadian fans.