Naomi's
set to keep pushing SoBe drinks and
Kanye's
the new pusher of Absolut Vodka:
Check out Kanye's new ad. Nice deal for him I'm sure.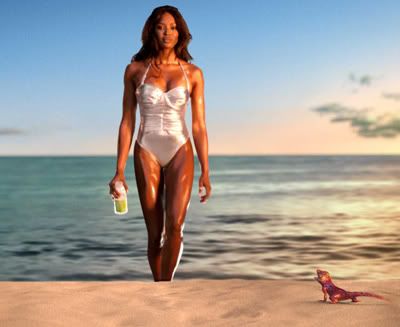 While SoBe Life Water is launching three new flavors, Naomi Campbell will be starring in a new SoBe Life Water commercial that will be premiering today. The pic above is a shot from the new commercial. Naomi's spot from the Super Bowl "Thrillicious" ad was a huge success and this time around she is dancing to "Black Magic Woman". Nice. And here's the leaked commercial:
The Randomness: 1.
Nas'
untitled new album hit stores today and he's set to embark on a 21 date summer tour kicking off in Montreal July 22nd.
Story
2. Oh stop it
Buckeey
.
That damn sex tape
was NOT and "intimate act of love". So that
Kim Kardashian
excuse does not work for you boo. Yes,
ya girl is admitting that it is indeed her on that sex tape
...but of course it was released "without her permission". Can people be more original with their lies please? Thanks.