Mama 'Retha
was spotted outside the Ritz Carlton New York today:
And we can see her pearls this time.  Nice.  
And here's some excerpts from
Solo's, Keri's
, and
Teyana's
Summer '08 Rap-Up cover:  
SOLANGE KNOWLES
On being in Beyoncé's shadow: "At this point, it's starting to hurt me more than helpme because my family is sort of known as the new age Huxtables. We're the clean-cutgirls. But I got married at 17, had a kid at 17. Ever since I was younger, I alwaysconsidered myself to be into more artistic things than [Beyoncé]. People just hear the[Knowles] name and they just put a stamp on it automatically."
On meeting Barack Obama: "I had all these questions I wanted to ask him and I got sostar-struck. I've never been like that about someone. I was stuttering and my question came out all wrong."
  The rest of the excerpts and
Nelly's
cover and excerpts when you read the rest...   KERI HILSON On her idol Lauryn Hill: "She's just out of this world. She is kind of like me, brutallyhonest." On dating her mentors Timbaland and Polow Da Don: "Oh hell no. I neverconsidered them for a second. Firstly because I never mix business with pleasure. I'venever dated anybody I had to work with ever. So you'll never see that. Not now, not inthe past, not in the future."   TEYANA TAYLOR On being one of Rap-Up's "Brave New Girls": "It's always cool being the new kid onthe block because everybody's looking. They wanna know, 'Who is that person?'" On who she admires: "Lauryn Hill because of her voice and her confidence. Justeverything about her is so dope. From her being a rapper and a singer to the stuff shetalks about. I get so happy and start blushing when people say that I am like her."   I'm starting to love these chicks and I don't even know why.   As for Nelly's Rap-Up cover: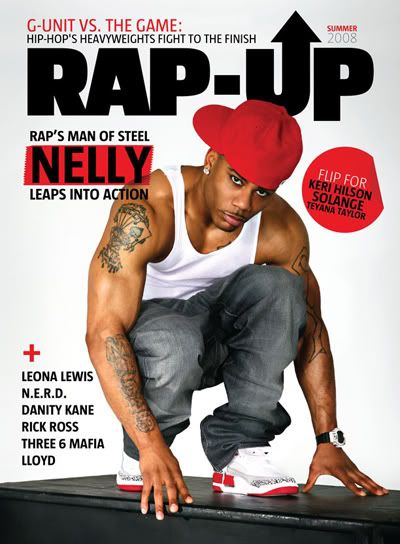 On the prospect of marriage to Ashanti:  "Right now, we not thinking about [marriage].It's just all about the work."
On the relationship Ashanti has with her parents: "The bond that [Ashanti] has withher family is incredible. It's one of those bonds that is the exact opposite of the bond thatI have with my parents … I'm not saying my parents don't love me and I don't love myparents, but it's just different. They're such a caring and loving family that you applaudthat and you wish that everybody had that relationship with their family."
On haters saying he fell off: "I sold six million records and everyone's like, 'Yo, he'sfallin' off.' Am I fallin' off for real or am I fallin' off for Nelly? Like who are you comparingme with? I've outsold anybody that you can mention."
On T.I.'s run-in with the law: "We all make mistakes. I'm not a judgmental person. Imay not agree, but I'm not going to judge you for it because we all gotta be accountableand we all gotta take responsibility for the choices that we make. But be that as it may,I'm not going to stop being his friend because he made a mistake. I think that's whenyou need your friends the most, when you have made a mistake."
On the state of hip-hop and Soulja Boy: "The guy's 17 years old. You think he wasworried about what a 30-year-old thinks about his fucking music when he was makin'that song? Trip off the fact that here's a 17-year-old that wrote and produced his ownalbum, that found a way to make himself prevalent, got on YouTube, and made himselfbig. Look at that! This should be applauded. This young man was being innovative. Thisyoung man made his own way. That was brilliant to me. It was just fuckin' brilliant. Again,hip-hop started for the youth, it was created by the youth, so why is all the old headstryin' to control it?"
On being a father: "I'm only good to my kids 'cause I know Chris Brown and SouljaBoy."
Funny funny.    
And it looks like
Monica's
new reality show is a definite go.  it premieres on Peachtree TV August 5th.