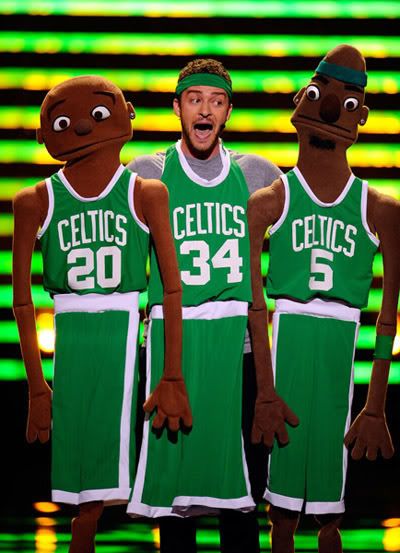 Justin Timberlake
had another slip up on tv. Apparently he made a "shucking and jiving" joke about Celtic Champ
Paul Pierce
that many black folks may not like. And unlike Nipplegate with
Janet Jackson
, his slip up will be omitted from the ESPY Awards show completely when it airs. According to
Faded Youth
:
JT was reportedly teasing Boston Celtics basketball player Paul Pierce about his injured knee in Game 1 of the NBA Finals. In describing how Pierce quickly came back, Justin joked that Pierce was back on the court, "shucking and jiving." The comment, which was cut out of the broadcast that aired Sunday night, was met with silence from the crowd when the show taped on Wednesday. For those not in the know, "shuckin' and jivin'" is a slang term primarily used by African Americans referring to the speech and behavioural mechanisms adopted in the presence of authority figures. The term usually involves clever lies and impromptu storytelling, used to one-up an opponent or avoid punishment and originated in the era of slavery.
Some folks are up in arms while others really could give a damn. Where do you stand? The Peetes strike back at radio host
Micheal Savage
about his autism remarks when you read the rest...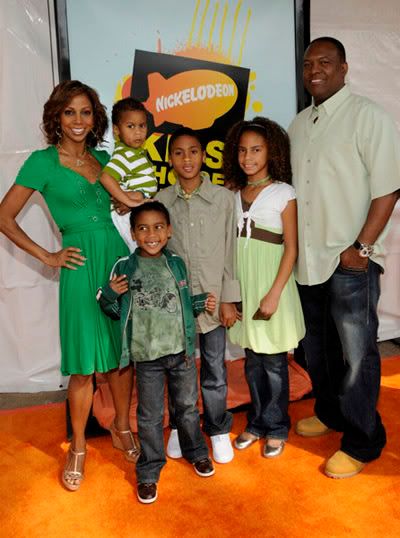 Holly Robinson and Rodney Peete
, who have 10 year old son with Autism named
Rodney, Jr.
, are speaking out against some recent ignorant remarks made by Michael Savage about children with Autism. The controversial remarks originally aired July 16 on Savage's radio show,
The Savage Nation
, during which he called the disorder "a fraud, a racket...In 99 percent of the cases, it's a brat who hasn't been told to cut the act out...They don't have a father around to tell them 'Don't act like a moron...Act like a man. Don't sit there crying and screaming, idiot.'" The Peete's response:
"As a mother and father who have dealt with Autism for over a decade, we find it shocking that the individuals who name call and pass judgement on families like ours, have had zero experience with the disorder or its effects on a child and his/her family. "Attacking fathers and insinuating that kids with Autism are 'brats' is irresponsible, insulting and painful to our children and furthers the backlash they face every day. In the African-American community many children go undiagnosed until the "window" of opportunity for treatment has been slammed shut. They are diagnosed on average 2-4 years later than other more affluent subsets of society. The American Academy of pediatrics recent and long overdue decision to encourage pediatricians to have every child tested for Autism by the age of two may help these children get a diagnosis and treatment, which needs to come early, hard and fast. "For Savage to portray this important mandate negatively is malicious and misguided. We have seen our son beat the odds because he had an early diagnosis and access to treatment. We continue to work every day to help other families provide the same opportunity to their children."
Who the hell is hiring these people at the radio stations??
Caulfield/Mazur/Wireimage