Candid Fab: Jennifer Hudson, Vanessa Williams, & The Cannons
Jul 24 | by Natasha
YBF folks were out and about yesterday:    
Jennifer Hudson
hit up the BET studios to tape some promo ish.  I see somebody told her to remove that purple belt.  Probably a good move.    
Vanessa Williams
was spotted arriving to the Ugly Betty set in Manhattan.  Chick is fierce even when she's
not
in Wilhemena mode.  Loves it.  
And
Nick Cannon
was spotted walking the streets of NY as well.  Likely ruunning errands for his wife.   More flicks of these folks when you read the rest...  
I see
Punk
smartened up since he wasn't spotted lurking in the background of any of these photos:
The look is cool but it just screams mall to me Jenny.  You're much more fabulous than that.
Vanessa Williams, b.k.a. Mrs. Mode-Slater, hit up the Ugly Betty set:
Looking fab as always.
And Mr. Mariah Carey: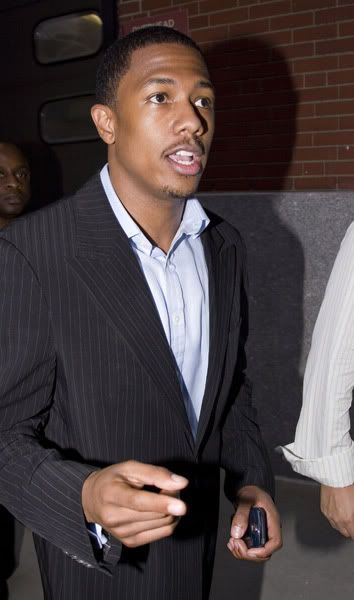 This suit is not the business.  If you're going to rock a suit everyday Nicky...I suggest you have a tailor on payroll and a personal shopper.  Me no likey.
And later
MiMi
was spotted hitting the town with her man...in her usual spandex.
Splash News, Ach/Wireimage