Fierce Kitty Frankie & Keyshia Cole's Adoptive Mother Making Moves!
Jul 24 | by Natasha
We've got more info about Fierce Kitty
Frankie's
new reality show.  I'm told it'll be airing on BET (surprise surprise) as a spin off to her daughter 
Keyshia Cole's
show.  It's currently titled "Holla!  I'm Just Frankie!" as that's her usual words when she enters a room.  Yes, I'm serious.  She had a b-day party this past weekend in Atlanta and I hear it was definitely star studded *
side eye
* and the camera crews were rolling tape to get footage for her show.  You give a chick some new teeth and they want their own show.  Keyshia's show is kicking off soon as well for a Season 3.   I spotted the cameras myself at Essence Fest a couple weeks ago when she was there.   As for Frankie's show, there's no set air date but it will likely air around the same time as Keyshia's. I can't even hate on Frankie.  What Frankie's show will be about--who knows and who cares.  It's Frankie.  So I'll most definitely be watching.   As for Keyshia's adoptive mother,
Dr. Yvonne Cole
, she has started a new gospel label called C & W RECORDS.  Here's a couple of her promo pics: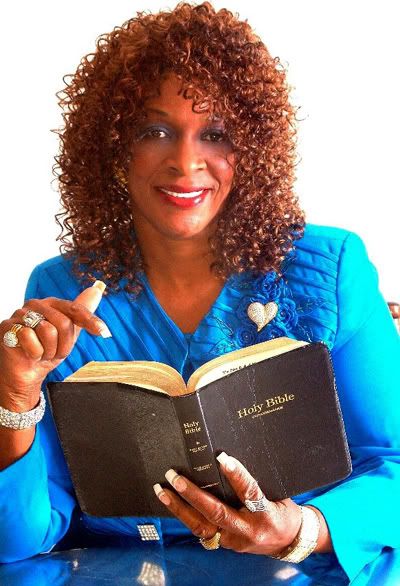 I feel like I'm looking at a hair magazine.  Anyways, according to the press release:
The nation's newest gospel record label C & W will bring you the worlds BEST in gospel music.
C & W Records was founded in 2008 by Dr. Yvonne Cole, Leon Cole and Herman Williams of Memphis TN. Dr. Cole is the adopted mom of singing sensation Keyshia Cole and mom to Shun Cole a.k.a. Nuttso. Rapper TuPac Shakur, hand picked Shun to be a member of his rap group the (Outlaws) before his passing. Dr. Cole hired Herman Williams as the labels General Manager, V.P. of Marketing and V.P. of Promotions. She hired her son Leon Cole as the V.P of Sales and V.P. of A&R. Over the next five years C & W Records expect a tremendous growth and success mostly due to the recordings of Dr. Cole and her newest artist Sylvester Burks.
This ought to be interesting.