Don't believe the hype. Chrihanna is still in effect: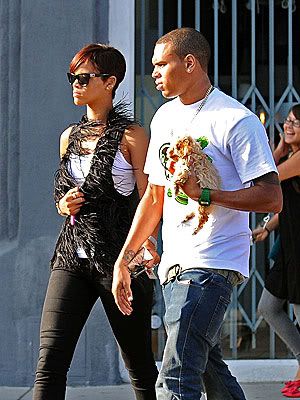 They were spotted shopping it up around L.A. on Melrose yesterday as Chris carried around one of Rihanna's pooches.
And TMZ sources say Toni Braxton will most def be a contestant on this new season of Dancing With The Stars. Of course, the DWTS producers aren't confirming anything yet. But she's dealing with her heart problems well and will likely kick ass on this show. Team Toni! More with Michelle Obama and Tyra when you read the rest...
And in case you missed 'em, here's flicks of Chris and Rih Rih getting it pimple poppin' in the hot tub while they spent the weekend in Ocean City, MD last weekend: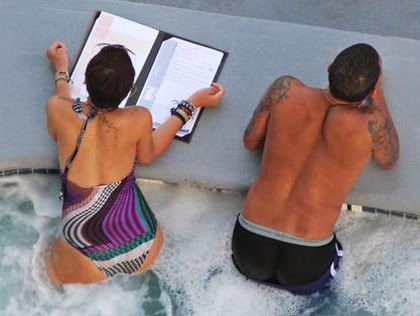 Well aren't they cute. *Gag* Yeah I'm hatin'. And what?
Going beyond the surface view of poise, elegance, style and the utmost class, Ebony magazine unveils the real Michelle Obama in the September '08 issue: mother, wife, potential first lady and style icon. Take a rare look behind-the-scenes of Michelle's life on the road to the White House and how she finds the necessary balance between managing the household with Sen. Barack Obama and joining her husband in pursuit of the most ambitious American dream. Michelle's mother, Marian Robinson, is also interviewed and reflects on her daughter's childhood and transition to being one step away from changing her address from Chicago to Washington, D.C. And Lord help us, Tyra is smiling with her eyes extra hard as she tries to be America's Next First Lady: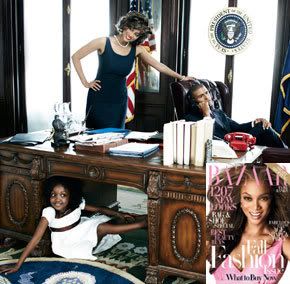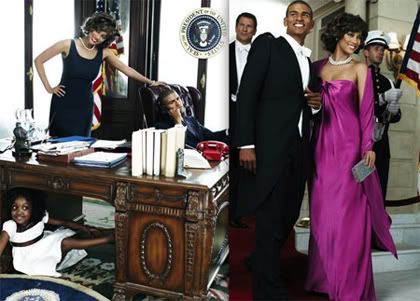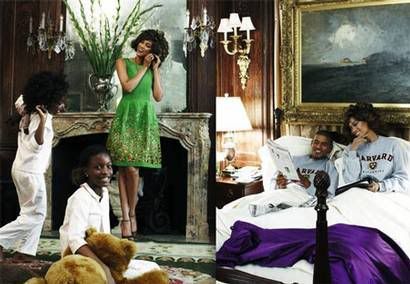 She's doing an interesting photo spread in the upcoming issue of Bazaar mag where she's impersonating First Lady hopeful Michelle Obama. And she confessed that if she were first lady, her Secret Service code name would be "KMFA: Kiss My Fat Ass." Lacefronts for everyone!
Rapheal Saadiq has a new song called "Love That Girl". Check it here. His album The Way I See It hits shelves September 16th.