Keri Hilson
is rocking the new cover of
TRACE
magazine for its Black Girls Rule! issue.  Looking fab as usual.  
YBF snitches tell me that
50 Cent
is in the process of directing his own movie right now.  It is very low budget and is being filmed in Paterson, New Jersey.  Of course, he's working on acting in other films simultaneously.  No words if he'll make a cameo in his own movie or the title of the project.  But I hear it's supposed to come out (likely exclusive to the street DVD--that means only bootleg copies for the slow folks) in November.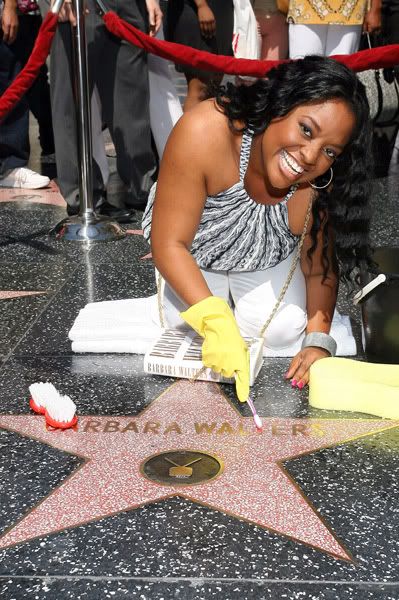 Heads are set to roll once again at
The View
.  Well, allegedly.  The folks at
Celebitchy
caught a
National Enquirer
article this week about
Babs Walters
being on the brink of firing
Sherri Shepherd
.  Now, the last time we heard the firing/quitting rumors, they all ended up being true (
Meredith, Star
 and
Rosie
).  What's got Babs' panties in a wad this time?  Supposedly she's still pissy about what Sherri said about her needing to be saved in her Black Christian Woman magazine interview.  Sherri said it was a joke and she apologized on the show to Babs publicly and said her comments were "taken out of context".  Babs looked like there were no hard feelings at all.  But she looked like that back when heads were rolling when the other folks got fired too.  Here's what the
Enquirer
had to say:
"Barbara has had it with her," said the source. "Barbara was shocked that Sherri would say she needs to be 'saved'. She's dumbfounded by the stupid things that keep coming out of Sherri's mouth…
Barbara has been saying that Sherri's a "loose cannon," added the source. "And after hearing what she said to a Christian magazine, word came back from Barbara that she wants to boot her off the show.
"Barbara thinks Sherri has become far worse of a problem than Star Jones and Rosie's O'Donnel when they were on the show - and that's saying a lot!"
While Barbara is ready to see Sherri move on from "The View," insiders say it's unlikely there will be a dramatic firing.
"Barbara may first give her a chance to shape up before shipping her out…
"And if Barbara does let Sherri go, expect a fun farewell with the whole gang saying only nice things about Sherri in public."
So it looks like they may be playing switch up again with this latest firing.  These broads are like the over-35 version of
Destiny's Child
.