YBF chicks were out and about last night around New York and Hollywood: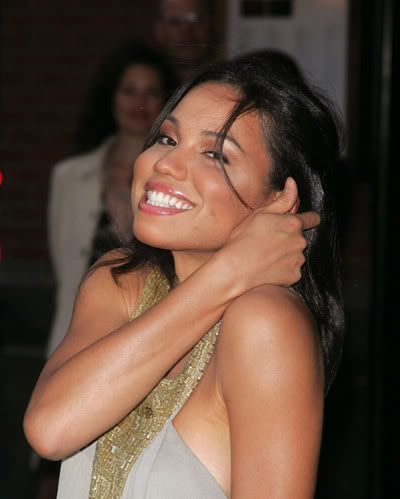 Jurnee Smollett
was spotted at the screening of screening of
Elegy
at the Tribeca Grand Screening Room.  I'm literally pissed off at this choice of she right now.  She has got to do better than this.   And over at the
Holly
NY screening at hearst Tower,
Selita Ebanks
showed off her semi-new haircut and
Julissa
made an appearance:
So now that BET's "The Center" is defunct so she has no more hosting gigs and her engagement to NFL baller 
Larry Johnson
has supposely been called off, what is this chick's purpose?  Just asking.
UPDATE
: Ok apparently she's on MTV now.  Yet, my question still remains.   More pics of these folks and others when you read the rest...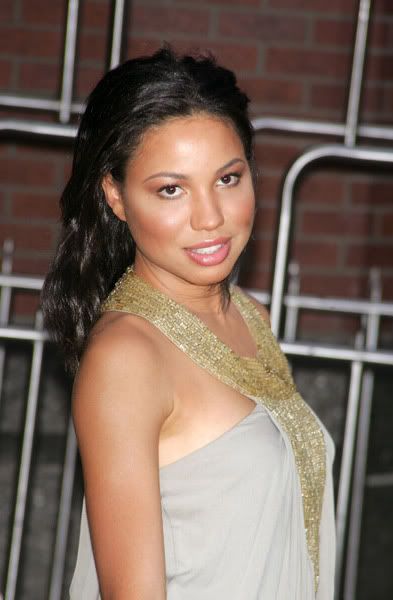 Oh Jurnee.  I really just can't get past these damn shoes.  Why'd you have to go and do that?  You're too fab for mess ups like this.
Julissa rocked a cute jumper outfit at her screening.
And Selita looked hot in her white tux inspred suit.   Oh look who decided to show up to
Reggie Bush's
practice: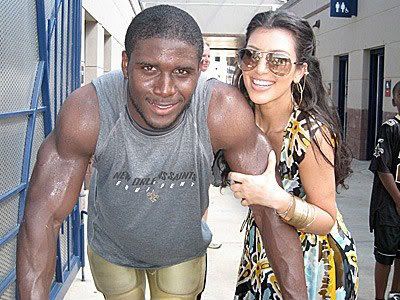 His girl
Kim K.
of course.  What is this?  A new trend or something where celeb and psuedo-celeb chicks show up to their man's games and practices acting like he's not at work or anything?  Apparently the rumor mill spun yesterday with word that Kim brought her diva antics to Jackson, MS where the Saints are having training camp and the players weren't feeling that ish.  But 
TMZ
says Kim has also ingratiated herself with all the other players' wives and after one of the games, she and Reggie even treated everyone to a screening of
The Dark Knight
.  Guess she's not trying to get boo'd out the Superdome like
Jessica Simpson
 does at
Tony Romo's
games.  
And fab chick
Monique
hit up her charity event in Hollywood giving hungry kids packed lunches yesterday.  Cute new haircut for her as well.  Her new movie
High School Musical 3
hits theaters soon.  
Gershoff/Spellman/Wireimage, TMZ.com, People.com