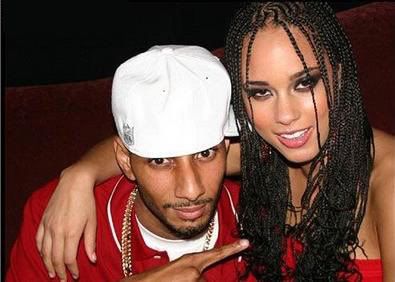 An older pic of Alicia and Swizz Beatz
This
Swizz Beatz/Mashonda/Alicia Keys
triangle just got a whole lot juicier.  I dropped some of this info this morning in my gossip report on
Big Boy's Morning Show
...now here's the rest.  A source who works very closely with Alicia tells TheYBF.com that AK is definitely not the good egg in this saga
like we're being led to believe
.  In fact, I'm told Alicia and Swizzy were together during her concert performances in and around Paris just a few weeks ago!  According to the source, there was definitely no business need for Swizz to accompany Alicia on that leg of the trip, but the two definitely were taking in the sites together and totting around like lovers the entire time.  Oh, but there's more.  This is all after Alicia allegedly called her whole team to a meeting a few times to tell them none of the rumors were true of her being a homewrecker in Swizz and Mashonda's marriage.  Apparently it was just Alicia playing that smoke and mirrors game Hollywood is known so well for.  Not to mention Alicia still has not come out with an official statement saying any of the rumors of her being a homewrecker are untrue.   Lots more of this drama and statements from the source when you read the rest...   To make this situation even crazier, the source claims Swizz and Mashonda are lying about this "divorce" in order to save face for all people involved.  I hear they're still living together and are nowhere near "separated" either.  Mashonda is completely devastated by this affair and has attempted to reach out to AK on several occasions to no avail.  I guess there was truth to
what she hinted at in that Hip Hop Weekly article
after all.  Here's a snippet from my conversation I had with the source who works closely to Ms. Keys:
I was on tour with Keys for months up until her last run through France, Monaco and Italy 2 weeks ago. The big problem I have with this situation is that Keys has made several efforts to hold private meetings with her staff, including me.  In these meetings she sits us down and gives us speeches about how none of the rumors are true and that we should all just do our work and keep the personal stuff separate. Meanwhile , I hear her screamig and arguing with Kerry (her producer/sometime boyfriend) about having Swizz at the shows. This was back in April.  Kerry hasnt been around since.  He is now totally out of the picture because of Swizz.
I am very close to another person on the tour that has been cool with Keys for years.  This person has told me how disgusted Keys' mother is with the whole affair and how this person has overheard Keys on the phone saying "I cant go on like this, it's ruining my name....People have to believe there is a divorce in play." Of course she was talking to Swizz .
And about Swizzy and Alicia's boo'd up status while in Paris a few weeks ago:
I saw Keys and Swizz on a tour at the Eiffel Tower in Paris they were acting like lovers. He had no reason to be there and he is not a part of her show. He has a huge tattoo of Mashonda's name on his wrist.  Keys is fully aware of Mashonda being his wife.  I heard that they have actually been creeping for months since last year. She was livid with Swizz after he threw Mashonda a birthday party back in Jan . Since then hes been around Keys a whole lot more.  I just know that she is pressuring this man to leave his family so that she doesn't have to sneak around and be called a homewrecker anymore.
I'm sure a "statement" may be released saying Swizz was never there.  The usual cover up.  *
side eye
* What's sad about this, I'm told, is that Kerry was also married with a child before he got involved with Alicia...and of course she's been accused of having interfered with him and his wife as well several years ago.  Damn!  And apparently, Alicia does not allow anyone on her team to carry cameras/take pics of her while on the road.  And now we know why.  I cross checked the places visited and names (omitted for privacy purposes) mentioned in our conversation that were connected to Alicia and Swizzy's stay in France, and it all checks out.  So take it how you wanna.  Say it ain't so Alicia...say it ain't so!