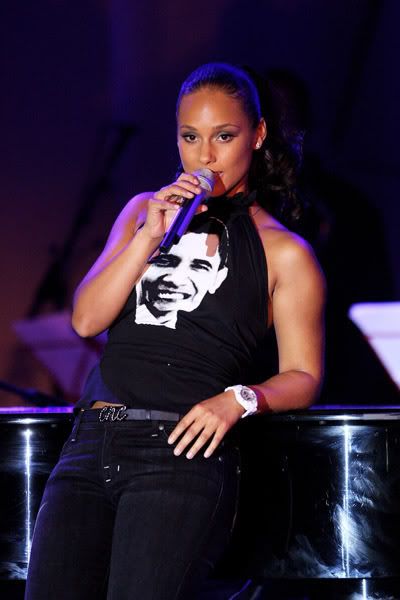 TheYBF.com
was the first to report several months ago
that
Alicia Keys
had been tapped to be the next VitaminWater spokeswoman.  Our sources were correct as it has now been confirmed.   Alicia told
OK!
magazine about her new deal in her most recent interview
"I don't partner with anybody, but this really was natural for me because I've been a fan from the beginning. I love their personality. Have you ever read the bottles? Don't you just feel naturally smarter when you read it?"
OK!
also says that her signature flavor is the lemonade-like Multi-V. As for how many 0's are attached to her new hawking deal, it's still not been confirmed. But we're told it's pretty close to $50 million. Seriously.
So
Terrence Dean
, author of the celebrity down low folks revealed book
Hiding In Hip Hop
has dished a bit more dirt to EurWeb during a recent interview:  
Can you offer any clues as to the identity of any well-known stars on the DL? 
      As I mentioned in my book there is a high-profile rapper/actress, who has been nominated for several awards, including an Oscar, who also has dated a few WNBA players, and a R&B songstress from the early 90's. Another is an extremely popular male R&B singer who has written for Rhianna, Beyonce, and other great R&B singers, who has broken the mold of superstardom with his popular ballads and signature sound. He's been seen with beautiful women, but they are cover girls and provide the perfect cover-up for his hidden secret.
Have you ever encountered any well-known star in a compromising situation?
         Yes, I have. In a couple of instances I have encountered well-known celebrities in compromising situations. One music producer who has produced several of t oday's hottest rappers and singers, who has been featured in numerous Hip Hop magazines and television specials was at a down low sex party. I recognized him at the party and introduced myself. He was very cordial. After a few drinks, the men at the party moved to the bedrooms. I saw the music producer engaged in sex with several men in the middle of an orgy. I've been intimate with many A-list actors, rappers, and singers. They are on television, the radio, and have a significant presence in the entertainment industry.        One famous actor/model with a beautiful body and face, who has been photographed in high-fashion pictorials, and has been the face of leading clothing designer's campaigns, became my bed partner after an intimate evening.  
Honestly, I really hate puzzles and don't feel the need to be that interested unless hardcore names are being revealed.  And even then it's really not that serious.  With that said, I have
my
guesses based on these "clues" given.  Do you?