Apparently some tracks of
Chris Brown's
leaked today illegally and Chris' label Jive has put out a statement saying they're working on taking legal action to get everything removed from the net and airwaves. Here's the statement:
Recently, unauthorized Chris Brown material was leaked online. Most of the unfinished songs were demos and reference tracks Brown and his production team were writing and producing for other artists. Brown's record label, Jive Records is doing everything possible to prevent any further illegal distribution of these tracks.
Interesting. Oh, and that pic has nothin to do with this story. I just still think that ish is hilarious and everyone needs a laugh today.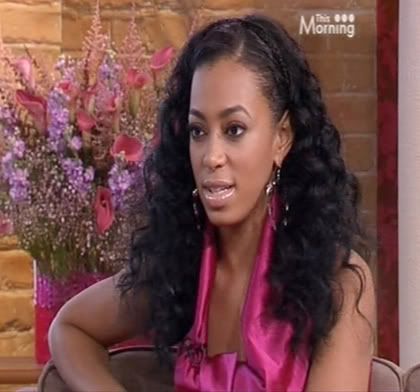 And
Solange
is talking about how she has
PaPa Knowles
wrapped around her little finger, which is the opposite of her big sister
B's
relationship with Daddy Knowles. Solange hit up the Morning Show today. She says her dad may have been strict with Beyonce but he's a pushover with her. Solo, who is signed to her dad Mathew Knowles' record label, said that in their relationship she's the boss. She said:
"He has to do what I tell him to do. I think that he was a little bit strict on it with my sister and then he got lazy with me. I just tell him what to do and tell him to go and make me some money."
Oh really Solo? Hate to be Captain Obvious here but it looks like all that "strictness" paid off for B monumentally. I mean...she sells out Madison Square Garden and the largest venues in the world in minutes. And I could have sworn I caught a cold thanks to all the empty space and drafts while watching your performance in a small corner of the Superdome in New Orleans.  Me personally, I'd be begging for strictness.  But I guess it's all relative.  
Splash News