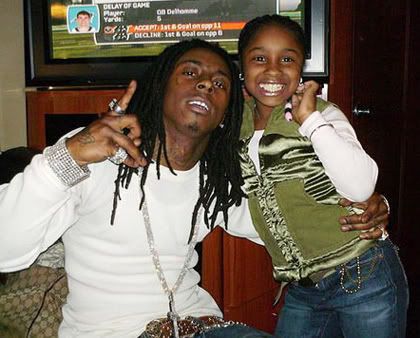 Rumors spread like wildfire last night and today that
Lil Wayne's
pre-teen daughter
Reginae Carter
was killed in a fatal car crash. 
A rep from Wayne's label Universal has officially stated
that the rumors are 100% false and Reginae is just fine. I am well aware of which "gossip site" kicked off this rumor and I'm not really surprised as it's their M-O.  However, TheYBF.com did not address these rumors in any way, shape, or form because of the original source and the lack of any credible sources reporting this.  My job is not to verify and validate all foolishness that other people do.  There are certain things I entertain and certain sites are not on that list.  Sometimes people really just need to stop and consider the source for a minute before acting on a rumor.  While YBF is a gossip site, I have standards and boundaries for myself and for this site, unlike certain other sites.  I do not and will not "gossip" about tragedy or death.  I only report confirmed reports of this kind.  I am also told Reginae and her friends and family are having a difficult time handling this rumor as it would be difficult for anyone.  Especially for a 9 year old.  It is classless, rude, disgusting, and tactless to make up a horrible story like this simply just because, or for attention and hits.  At the very least, some things should be left off-limits.   I
would
tell these certain "media sources" to get some class, but that would be like telling that to a brick wall.  But karma is indeed a b*tch.