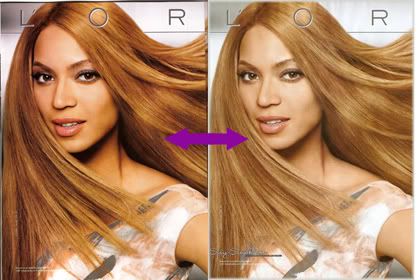 Click pic for larger image
    So the L'Oreal ad on the left featuring
Beyonce
was taken form the new issue of
Essence
magazine. And some people are saying L'Oreal Paris darkened Beyonce's skin in the ad for
Essence
, while they lightened it in the ads for the mainstream mags (featured on the right).
All the drama popped off last week
about the skin lightening in this L'Oreal Paris ad, but did L'Oreal darken it for the
Essence
ad? Maybe the printing machines were just off.  Regardless, here we go again...