Ok this is the last post I'm doing about this chick
LisaRaye Misick-McCoy
 today.  All these random "candids" and now photos she took of her bruises are starting to scream publicity craver.  And since
Essence
wants to hop on the tabloid bandwagon (WTF?), they've provided the world with LisaRaye's post-altercation pics: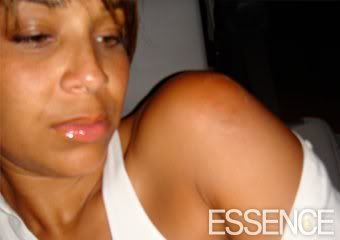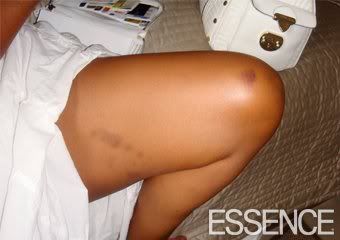 The pics look like they were taken the day she left the hospital (judging by her clothing and she was spotted in this that same day). It's still unclear as to exactly how she got the bruises as it was never officially stated if her husband
Premier Michael Misick
caused them directly, or if the authorities on the scene of the altercation did.  I have my guess though.  Of course, no charges have yet to be filed in this saga.  But um,
Diamond
never got bruised up like this from what i remember.  I'm just sayin'...
Essence.com