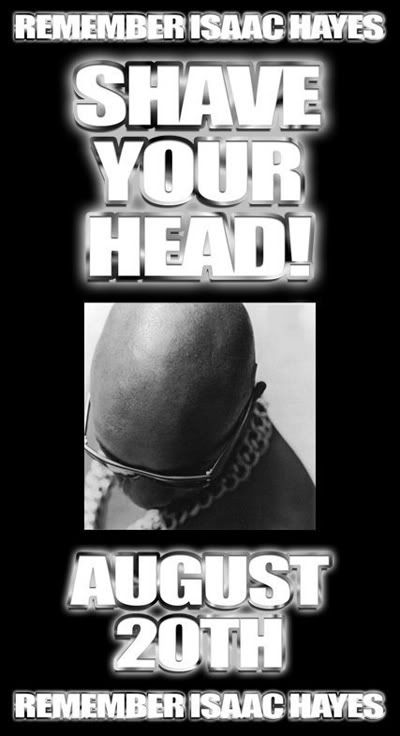 So today would have been
Isaac Hayes'
66th birthday.  And to honor him today, his son
Ike Dirty
has sent out this mass request for people to shave their heads in honor of his father.  Here's his request in full via his publicist:
"Visit
Dirty N' The Beest
where on this day, August 20th, I would like to honor my fathers legacy. My father was about to turn 66 years old. In 1969 he was one of the first men to wear a bald head when it wasn't popular. He made it sexy and acceptable. Men like Michael Jordan, Charles Barkley, Bruce Willis, Steve Harvey, Howie Mandel and Kevin Garnett all might have been inspired by Isaac Hayes.
Celebrate the life of my father, a music legend and SHAVE YOUR HEAD ON AUGUST 20TH! Take a picture, web cam shot, whatever with sunglasses and send them to
dnbtips@gmail.com
. I wanna post the pictures and videos on my blog.   I wanna make this BIG. I want this to be fun. If you ever were a fan or inspired by my father, Join me in celebrating my father's birthday today - August. 20th. SHAVE YOUR HEAD ON ISAAC HAYES' BIRTHDAY! Ladies I understand that you won't shave your hair so your best Isaac Hayes impersonation will do just fine. Just youtube it and send me the link. FORWARD THIS TO EVERYONE YOU KNOW! I ASK THAT ALL MEDIA OUTLETS, BLOGS, WEBSITES, RADIO, T.V., ETC. RE-POST THIS FOR ME. Thank You, Ike Dirty!"
Very interesting.  R.I.P. Mr. Hayes.