Tennis star
Venus Williams
is back in the US following her Olympic gold medal success with her sister
Serena
in Beijing: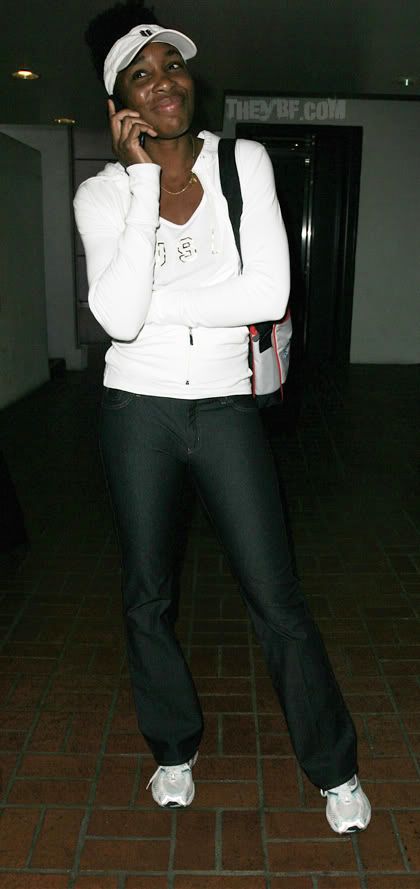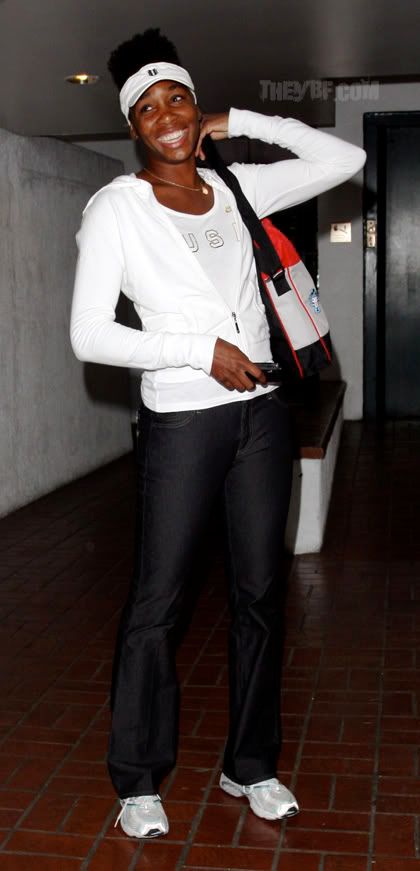 She was spotted leaving a medical center in Beverly Hills yesterday. No makeup and extra laid back.  Every gold medalist deserves
one
of those days.     
And
Brandy
was spotted shopping for a doll yesterday at the American Girl Place in New York City.  I'm sure it's a gift for her daughter
Sy'rai
.  
Wenn
The Kodjoes
discussing their daughter
Sophie's
Spina Bifida when you read the rest...    
Boris and Nicole Kodjoe
are starting to speak up about their daughter Sophie's Spina Bifida.  They are trying to raise money for test treatments that couple possibly help several children diagnosed with this issue.  Here's a snippet of their statement about Sophie:  
We are writing this letter to share with you a most personal issue and ask for your help. As some of you already heard, our little Sophie was diagnosed at birth with Spina Bifida, the most common birth defect in the US, affecting the brain and/or spine in an average of eight babies a day. Degrees of severity vary from quadriplegic children with major brain damage and spinal injuries to cases of neurogenic bladders or even lesser issues.
We were blessed with a miracle child and spared of the more severe symptoms, but Sophie's spastic bladder still forces us to catheterize her every three hours, day and night, to avoid pressure build up in her bladder and urine backflow into her kidneys. But frequent catheterization causes urinary tract infections, which are then battled with strong antibiotics, which in turn attack stomach flora and cellular balance, cause bowel issues, and that leads to more infections.
The couple goes on to speak about possible treatments that will need funding, and they are trying to raise almost 2 million to get test treatment for over 10 children with Spina Bifida.  Check out the rest of their story
here
.