So
Solange
hit up a Las Vegas Fox 5 news show today to discuss her new album that dropped yesterday.  And apparently the news anchor asked Solange and her reps if she could mention
Jay-Z
in the interview and the request was denied.  But Solo popped off on the anchor when they came back on the air telling her not to tie her in with her "brother in-law" or her family and how unprofessional her intro was.  The smartassness was hilarious.  But clearly somebody pissed in her morning OJ. 
Check out the video here
. And yes, Solo referred to Jay as her brother-in-law. Speaking of Jay-Z...
Mr. Carter has reportedly sold his Vegas 40/40 Club that he just opened this year. No word on why or who he sold it to.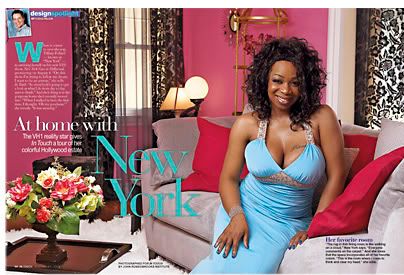 Tiffany "New York" Pollard
is featured in an upcoming issue of
InTouch Weekly
to showcase the home VH1 got for her while she taped her new show.  Chick looks a H.A.M.  Yeah I said it.  But this makes me wonder...who would win in a verbal altercation between Solange and New York?  Hmmm....    
Stephan Marbury
has gone and bought himself a $45 million private jet
.  This comes after inking a new $21 million contract with the Knicks.  It's his last contract so I guess he wants to go out with a bang.  But I have a feeling this jet is going to be strictly for show because even
Diddy
isn't riding in his anymore.  Diddy said on a recent video blog:
Gas prices are too mother[bleep]ing high," Combs says, wearing an off-kilter Yankees cap. "I've been flying back and forth to LA pursuing my acting career. If I fly back and forth twice a month, that's like $250,000 round trip. [Bleep] that! I'm back on American Airlines now . . . and I'm in coach!"
And Stephan's paper is nowhere near as long as Diddy's.  I can think of some better things to do with $45 mill...especially when you're just trying to keep up with the Joneses.