Bad News For Solange...But Beyonce Covers Marie Claire
Sep 03 | by Natasha
Even with pretty good promo, a bit of controversy, and backing from mom and sis, Solange only managed to sell a little over 30k units according to Soundscan for her debut week for Sol-Angel and the Hadley Street Dreams. Interesting. Just to put in perspective, Rihanna sold damn near the same amount last week for her Good Girl Gone Bad reloaded album and this was it's umpteenth week on the shelves. I actually love the album and I know many others do too. So this is indeed interesting. I have a feeling she's going to put out a statement that she really doesn't care about the numbers. because she's just making music she loves. i wonder if Papa Knowles feels the same way. Solo might mess around and get cut from daddy's World Music Group... Well at least back when she was a pregnant teen, Mama Tina wasn't running for VP of this country, underage drinking pics of her didn't come out, and her baby's daddy didn't post on his myspace page that he "didn't want no kids". We gotta count our blessings.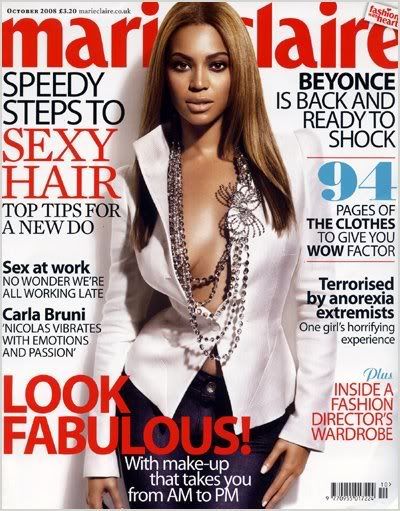 Beyonce is already starting her takeover comeback. She's covering the October issue of Marie Claire UK and looking fantabulous while doing so. It's just the beginning of B season because she's set to cover damn near every US magazine for the next two seasons (Fall and Winter). Her album must really be dropping late 4th quarter as rumored. Let the frenzy begin.... UPDATE: Here's a few quotes from the issue: Beyonce on why she uses her alter ego 'Sasha': "Things I do when I am performing I would never do 'normally.' I always wish I could feel the way I do on stage when I'm doing a movie because I have out of body experiences…I'm so fearless."
Beyonce on who her song 'Irreplaceable' is about: "The obvious person is not the person at all." Beyonce on being a pop star: "There is a time limit on being a pop star yes, being a legend, an icon, absolutely not. I'm over being a popstar, I don't wana be a hot girl — I wana be iconic. And I feel like I've accomplished a lot. I feel like I'm highly respected, which is more important than any award or any amount of records. And I feel like there comes a point when being a pop star is not enough." Beyonce on being a role model: "I think I'm opening doors for more black women, just like Halle Berry and Diana Ross opened doors for me." Beyonce on Barack Obama: "I'm really proud, I think we're making a bit of progress, it's an exciting time. We all feel part of our country now."
The Randomness: 1. Usher is planning a One Night Stand Tour. And no, it has nothign to do with his wife Tameka. He'll be touring nation wide and performing for women only. Interesting.