Look who's got a new job scooping ice cream: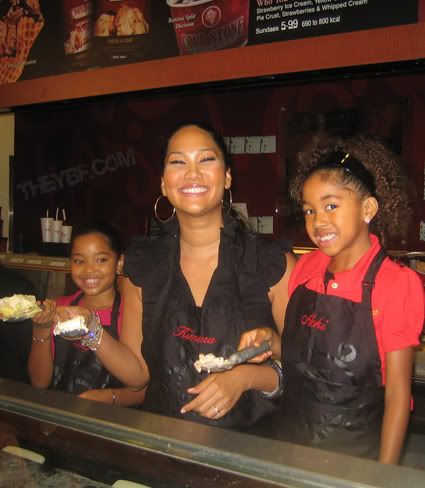 Kimora Lee Simmons
and her two daughters,
Ming Lee and Aoki Lee
, visited Cold Stone Creamery in Times Square NY yesterday. Ming and Aoki created two new ice cream creations that will be served at the Baby Phat/KLS 10th Anniversary Fashion Show on September 12. Ming Lee's creation included banana ice cream with yellow cake and fudge, while sister Aoki's creation included cotton candy ice cream, strawberry ice cream with gummy bears, sprinkles, and white chocolate chips –hers and every child's candy fantasy come to life! Kimora was courteous, humorous, and generous to the staff and customers at the event, proving to be an ideal employee. Cold Stone Creamery will also provide ice cream cakes at Kimora's dinner party after the fashion show, while Cold Stone's exclusive rolling mobile stone will serve the indulgent creations at the after party. And thanks to that fat ass divorce settlement between KiKi and
Russey
, she won't have to really scoop another thing for money ever again in life. Must be nice...  
Tyler Perry
hit up
Conan O'Brien's
couch last night. And he talked about singledom (so much for that alleged live-in girlfriend we've been hearing about) around the 3:50 mark. He says the ladies always run straight to his hot football friends when they go out, and they give no play to "Madea". LOL at the fact he thinks the "Madea" thing is why he's single. We still love you though Ty Ty.