Well here's a couple interesting pics of
Laurie Ann Gibson
and
Busta Rhymes
on the post-VMA red carpet: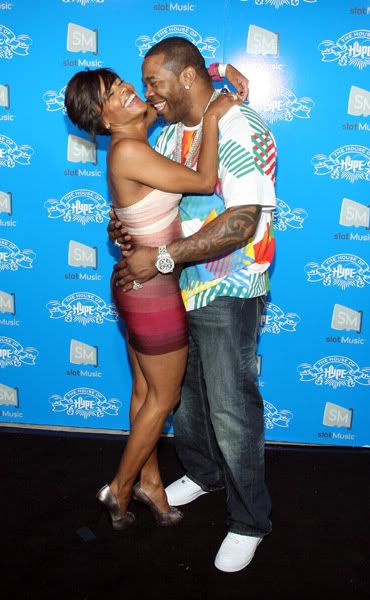 Should we send out a new couple alert? They're looking mighty cozy. And I don't know about y'all but I don't know many females who would be thisclose to dragon mouth Bussa Buss (according to
Diddy
) unless she was letting him tap that. Just sayin'...
Deelishis
, b.k.a.
London Charles
, is officially engaged to her man
Orlando Gordon
and she's dishing about the proposal and the upcoming wedding. And her new step-daughters to be.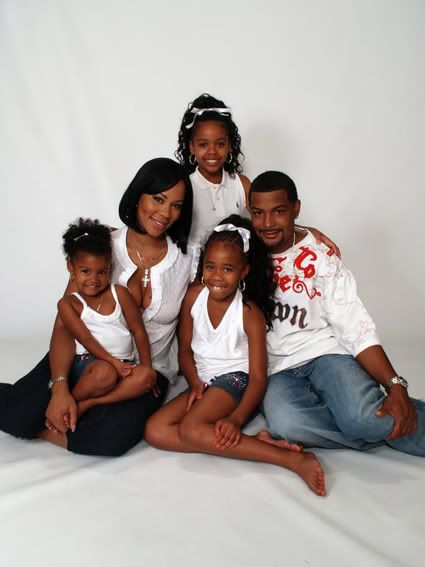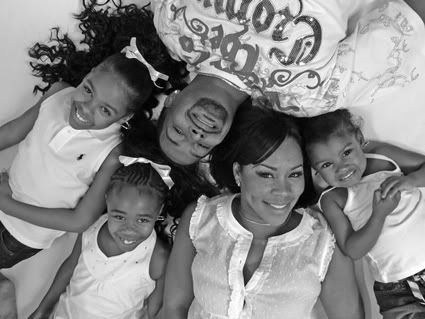 More pics and the article about his proposal and their upcoming wedding when you read the rest... Deelishis and Orlando took some family pics with the girls:
Deelishis and Orlando's daughter
Orlandria
Here's the article about Deelishis' impending marriage to her beau Orlando Gordon set for next summer:
Flavor of Love 2 winner Deelishis (real name London Charles) is now engaged to be married. The reality star turned entrepreneur (she owns her own jean line) will join her boyfriend, 27-year-old Orlando Gordon in holy matrimony on July 19, 2009, according to Sister 2 Sister magazine.
DEELISHIS ON HER PROPOSAL: "He and I were sitting around the house watching movies. Around 5, I went into the kitchen to grab something to eat and I came back in the bedroom and he was sitting there with this little box and he said, 'What are you doing for the rest of your life?' I was very shocked and surprised."
Deelishis said she and her hubby-to-be thought about eloping to avoid any media attention....what sort of media attention is beyond me....but instead decided to celebrate their union with their family and friends...and soon began making plans for a very large bridal party that will consist of 35 members including 15 bridesmaids and groomsmen. Of her engagement party, which was held at Orlando's nightclub (he also handled all the arrangements...food, decorations, music, etc. by his lonesome), Deelishis said:
"He had these flowers that were everywhere, and these vases had these orchids and roses and lilies. It was beautiful. For most of the party I was in tears. I just cried because I couldn't believe how beautiful it was. Then I just kept staring at this man, who, I knew we would have a long-lasting relationship but I never thought he would fall into suit of feeling as though he needed to make me his bride."
Mrs. Orlando Gordon's bridesmaids include SWV member Taj Johnson, former Flavor of Love 2 contestant Shay 'Buckeey' Johnson, model Toccara Jones, video vixen Angel Lola Luv plus Deelishis' two sisters and relatives from Orlando's side of the family. Orlando's 3-year old daughter, Orlandria....yes, Orlandria, has been given the title as flower girl, while Deelishis' 9-year-old daughter, Jasmine, will play her role as a junior bridesmaid. Deelishis said in choosing the members of her bridal party....particularly her bridesmaids, she wanted ladies 'who respect what marriage is, who respects my decision, who aren't going to be catty and who will keep this union tight.'
via Real Gossip
Buckeey
and
Angel Lola Love
are bridesmaids? Really? And dude named his daughter Orlandria? Damn. So many questions so little desire to even care to address them. Congrats to the couple though!