Tyra Banks
hit up the Cosmopolitan Fun and Fearless Female luncheon:
And she rocked this gorgeous Gucci dress.  Loving the look TyTy.
Ms. Campbell
was spotted on her way to some Fashion Week events in London last night.  Rocking the all white suit and looking effortlessly hot while doing so. And
Vanessa Williams
hit the red carpet for the "Ugly Betty" premiere:
I'm just going to need for her to lighten up on the botox and the side boob spillage.  It's all a bit scary right now.  You're entirely too fab for this Ms. Williams. 
Wilhemina Slater
would never.... More pics when you read the rest...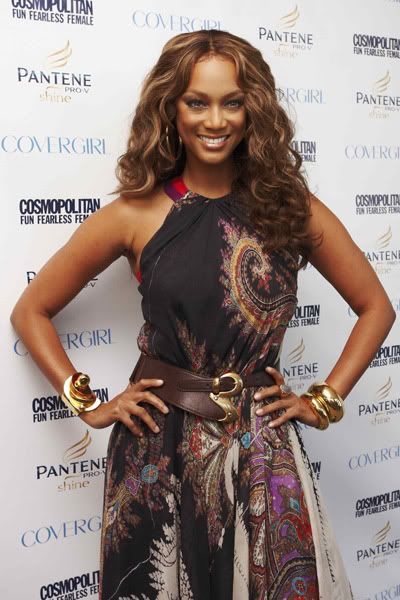 Tyra looked gorgeous at the Cosmo event.
Naomi wasn't throwing anything for once at the London Fashion Week events last night. And Vanessa:
Loving the dress.  Hating the botoxed plastered on surprise face.
Gershoff/James/Santini
___________________________________________________
The YBF widget is here! Get it by clicking on "Get Widget" or by
clicking here
. Add it to your own websites, Facebook page, Myspace, iGoogle, anything. And you'll stay up on YBF updates 24/7 and will be letting others know about all this fabulousness too.
YBF has joined the Rock The Vote campaign and we want you to register to vote NOW! Click the image above to register right here and it only takes a minute. We're keeping count of the number of YBF readers people registering here so get it in. Deadlines are in October to register to vote in the 2008 Presidential election. Both widgets will remain on the left sidebar for your convenience. We know you love it.