This Kind Of Classiness Is Hard To Come By...
Sep 17 | by Natasha
I wasn't even going to post this, but after reading this foolishness and this thing about "urban guys" I changed my mind. Get out your Windex:
Danity Kane
's
Aubrey O'Day
is covering the new issue of Complex magazine and she's talking some interesting stuff:
When people see you in the tabloids and blogs, they tend to think— Aubrey O'Day: —that I'm a ho, a dumb blonde girl.
I wouldn't necessarily say that. Aubrey O'Day: No, let's address it, because that's what everybody says.
Well, when you're out at clubs, you must get approached in an aggressive way. Aubrey O'Day: I think urban guys look at me and are like, "Here's the white girl I'm gonna f*ck." Like, I met a famous basketball player the other night.
Who? What team? Aubrey O'Day: I can't, he's too big. And, like, married.
LeBron! Carmelo! Yao Ming?!?! Aubrey O'Day: [Silence.]
Okay, I'll stop. Aubrey O'Day: So this nasty guy came up to me and says, "Come here. I'm the man, haven't you heard?" And I said, "Well, I'm the woman, haven't you heard?" And he was like—this is the third thing out of his mouth—"Well, I have a hotel here, so when are you going to come by to my room?"
Smooth. Aubrey O'Day: It was so embarrassing and corny. I was disgusted. It's funny that they think they can talk to me like that, like it's so easy. "There's that ho from Danity Kane, let me get her off tonight."
Do you feel at all responsible for building that sort of persona on Making the Band? Aubrey O'Day: You don't build your persona on reality TV. They build your persona on reality TV. I just learned to stop wanting to control it. Hey, they need the bad girl of the group, and no one else is going to take that role.
*blank stare* Meanwhile, she voluntarily posed for pictures in this very mag like her cooch would reach up and beat her if she covered it up and looked anything less than skanky. So for this ish right here Aubrey, you get a nice tall glass of B*tch Please. More skankaliciousness when you read the rest...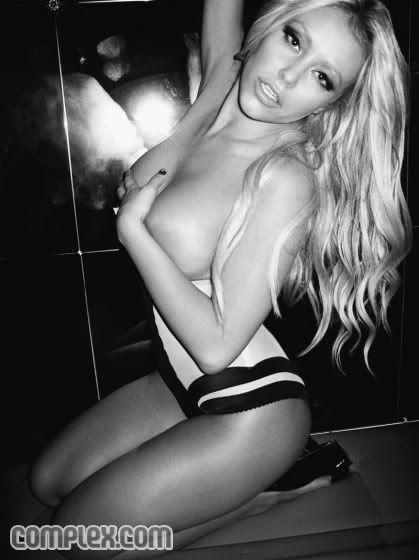 About having sex during that time of the month, Aubrey says:
Aubrey O'Day: Yeah. There was some new guy I was dating, and it was the first time we were going to go there, and he was weird about it. So I ask Jenna for advice and she's like, "Honey, it's just a little war paint, who cares?"
Still, the first time... Aubrey O'Day: Yeah, that's what I was saying.
I guess you could just throw a towel down. Aubrey O'Day: Ha! Yeah, I'm totally a towel girl. [Laughs.]
Is this an uncomfortable subject? Aubrey O'Day: Oh, it's fine. I love talking about my period.
Well, I suppose it's something that can be broached with— Aubrey O'Day: —someone you trust. Or you could just have anal sex.
Ahh yes, that trailer educated talk gets you every time. And this lil snippet right here:
How many Danity Kane albums are you locked in for? Aubrey O'Day: Seven, not including holiday and live albums.
Damn! So that means at least five more to go. Aubrey O'Day: In a perfect world, that's what appears to be the case. But, as we all know, this world is not perfect.
In other words, chick knows her days are numbered. And as usual, TheYBF.com sticks by its previous Danity Kane breakup stories despite the
lies
stating otherwise. Just wait... Check out the rest of the interview
here
and photo gallery
here
. SMH at her covering the "Classy Issue".