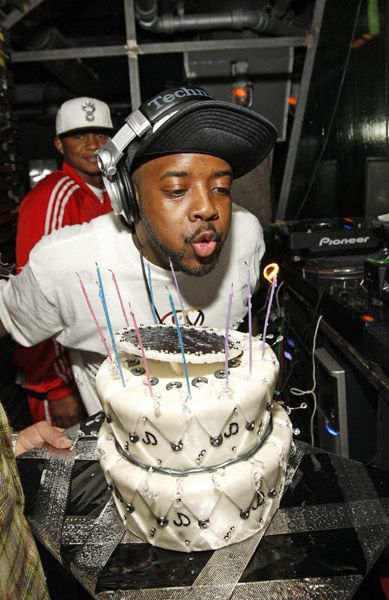 So
Jermaine Dupri
thinks he's 21 again. He threw up all over his girlfriend
Janet Jackson
at his birthday party a few nights ago. And we hear she was NOT pleased:
The other night, Dupri and his squeeze, Janet Jackson, went to Tenjune, where, spies say, they shared bottles of Jay-Z's Ace of Spades Champagne and Patrón tequila with Ne-Yo, Busta Rhymes and Ice-T - until Dupri "vomited in Janet's lap. Ms. Jackson bolted out of the scene and sped off in her chauffeured Maybach." A rep for Jackson and Dupri didn't return calls. A rep for Tenjune declined to comment. Meanwhile, we hear Dupri is under some stress at work. The head of urban music for Island/Def Jam put out his lady's last album, "Discipline," which flopped. Our insider said, "[IDJ head] L.A. Reid had wanted to make changes to the album, make it fresher with some newer artists added in, but Janet said no - and Jermaine backed her up. He looks silly right now."
Wow JD.  Get it together. And a lil something for my fellas:
Lil Wayne
is now blogging for ESPN. He claims he never watches anything but sports, so this is the perfect gig for him. And y'all already know his take on the NFL and other sports are hilarious.
Check out his first entry here
. More ish when you read the rest...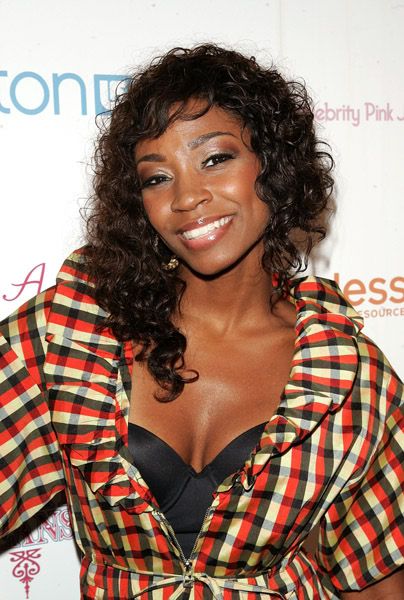 This Fall
D. Woods
of Danity Kane will start pre-production on the feature film "The Jump Off", a dance musical where she will co-star alongside Wayne Brady, Cedric The Entertainer, and Drew Seeley. Here's a snippet of an interview she did discussing the movie:
Speaking of other projects, you have a new movie that you're working on with choreographer Shane Sparks? It's called The Jump Off. I've seen Shane Sparks since he's been on America's Best Dance Crew critiquing the dancers. I'm nervous he'll be hard on us on set. But I'm looking forward to that because I haven't really been in my dancer head, so I think there's going to be a lot of great energy.
When will the dance movies just STOP?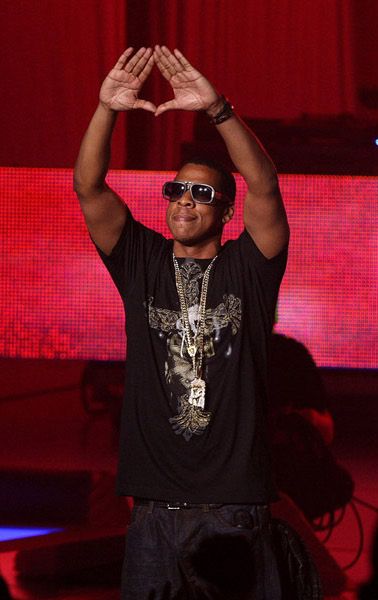 "Stargate were like a secret weapon," said Jay-Z of his new business partners."We had great success with Rihanna and Ne-Yo. In only 2 years, they've generated 10 singles in the Top 10 on Billboard's Hot 100 chart and 3 of those singles hit the # 1 position. This has been a rewarding partnership and it was time to take the creative venture to the next level." The New York-based StarRoc will focus on finding new talent and developing artist through strategically planned global partnerships that include music distribution, publishing, touring and merchandising. With the help of Roc Nation and Artist Nation, the company will manage artists' diverse rights, expand their fan bases, and provide a direct connection through the marketing and global distribution methods. The Randomness: 1.  As previously predicted,
Kanye
will not be facing felony charges for that airport scuffle he had with paparazzi a couple of weeks ago.  Meanwhile, I hear he's gearing up to star in a School Days II sequel directed by Spike Lee.  Alicia Keys is being tapped for the female lead role.  THAT ought to be interesting...