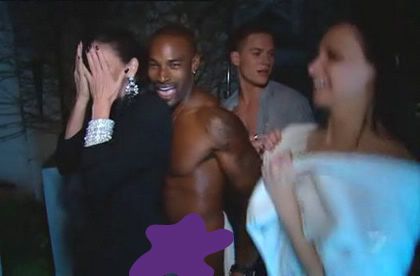 Ok.  So YBF usually does not engage in non tasteful posts of nekkid celebs.  However, it's
Tyson f'in Beckford
. And if there has been anybody else's package we've been curious about over the years, it's Tyson Beckford.  So we're making an exception.  He hit up some party several weeks ago and dropped trough for some unknown reason, but the extra NSFW (Not Safe For Work) pics hadn't hit the net.  Until now. Check out the uncensored NSFW pics when you read the rest...
I don't know about y'all, but I'm pretty damn disappointed--photoshopped or not.  But should we
really
be  surprised by the size challengedness of this man?  It's always the ones you expect the most from...
Wow Tyson.  Just....wow.  Oh, and snaps for the damn kid.
ONTD