After his infamous attack on paparazzi recently,
Kanye West
battled it out yet again with another paparazzo at the airport. He was spotted coming through his arrival gate early this morning after finishing his album
808's & Heartbreak
in Hawaii. A photographer proceeded to ask him questions with caution saying, "Can I ask you a few questions Mr. West, I'm being as polite as possible." He did not respond with words but did attempt to snatch the camera out of the pap's hand. With that failing, the cameraman then repeated, "just a couple quick questions." Kanye finally shouted back, "I'm going to ask you as a man to please leave me alone!" Clearly, Kanye no likey the paps. Gotta love him.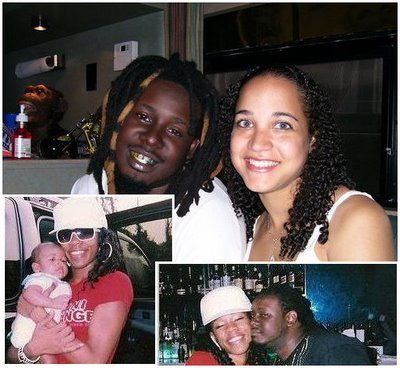 T-Pain
, whose real name is
Faheem Rasheed Najm
,
is expecting his third child
with his wife
Amber
. But it'll be
his
fourth child as he cheated on Amber with
Ms. Cherry
--from one of those VH1 reality shows I don't feel like looking up the name of--and had a baby with her too. That's her and their baby in the inset pics. Meanwhile, T-Pain is still claiming he's only 23. Boy stop.