It's officially B season when the rumors start to pop off left and right about ya girl
Beyonce
.  Rumor has it she swagger jacked the "If I Were A Boy" track. 
Fox News
(who we all know
is not a fan of the Knowles family
) put B on blast about her stealing the song.  According to them:
The single missed the Grammy deadline of September 30th, but it was ready to go at least 3 weeks ago. The answer: it was held up by endless legal wrangling since, in the long hallowed tradition of the music business, the young woman who wrote the melody and lyrics for "If I Were A Boy" had no idea Beyonce had even recorded her song until a stranger called with the news. By then, it was too late. BC Jean is a hot, up-and-coming 21 year old female singer songwriter from San Diego. Those who've met her says she's smart and "gorgeous." But BC (her initials, legend has it, are for "beautiful child") got a cold dose of reality this summer when it comes to the record business. According to sources, she and her manager/mother have been strong-armed by Beyonce's people and others who saw gold in "If I Were A Boy" and didn't care how they got it.
You can hear
BC Jean
's version of her own song, written with German pop-factory producer Toby Gad, at
www.bcjean.net
.  Some folks say it's certainly as good as Beyonce's if not better.  Gad did co-write the song with BJ Jean, but when BC's record deal fell through, he took the track and shopped it around to big name artists.  The same thing happened with Fergie's "Big Girls Don't Cry".  And honestly, this type of ish happens everyday.  And we all know B likes to claim she "wrote" a song even when she only changes one music note or a chorus.  But that's the name of the game.  I hear legal actions are about to be on and poppin'.  Y'all know
Papa Knowles
and them love to do whatever they please. More rumors about B's upcoming cd when you read the rest...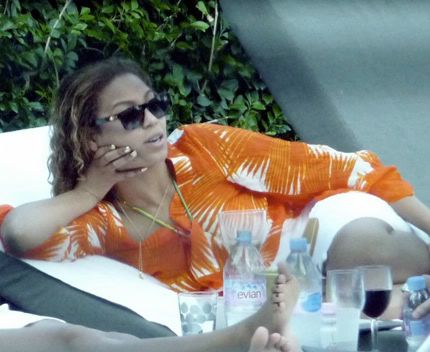 It's also been rumored that B's upcoming
I Am
album will actually be a double cd.  One cd will be titled "I Am...Beyonce"--more R&B, introverted, and sexy.  The other cd will be titled her alter ego "I Am...Sasha"--upbeat dance tracks a la "Get Me Bodied".  And here's the alleged track listing:
Disc 1: "I Am… Beyoncé" 01. If I Were A Boy 02. All You Can't See 03. Roses And Chocolates 04. Sometimes It Hurts 05. Love Me Not 06. Street To Nowhere 07. Hate To Leave 08. Together 09. God Blessed Our Love (Ave Maria Interlude) 10. At Last Disc 2: "I Am… Sasha" 01. Lights Out 02. Do A Dub (ft. Kanye) 03. Single Ladies 04. Baker 05. Beat My Drums (ft. Jay Z) 06. Movin' Aside 07. Freeze 08. Breaking the Rules 09. Mighty King 10. Nightcap's Lovers (ft. Justin Timberlake)
Me likey already.
And folks say she jacked the "Single Ladies" video dance moves from
Fosse
from the 60's. Hilarity.